Lady Raiders' Golden Goals
GOAL! Just a mere four letters bring so much excitement into the world's most popular sport, soccer. The definition for a goal does not always have to mean a point in a game: the Lady Raiders Soccer team sees it as improvement.
"This season so far has been one crazy rollercoaster. The improvement from the previous years in our program has been showing but there is still a lot we could improve on," junior and mid-fielder Agata Zarczynska said. "One of the major goals for the next couple of games and next season is the ability for us to be able to finish games and come out victorious," Agata added.
The Lady Raiders have yet to win a game this season; however, they were showing promise and had high expectations in the beginning of the season when they were winning preseason games against Garfield and other well known schools. They lost some heartbreakers, too, such as the game against Fort Lee in extra time in the beginning of the season.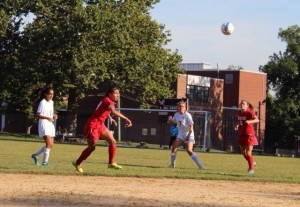 "It's the worst losing just at the very end when you did all that hard work not just in the game but in practice,"  junior Neha Kumrah said. "We are going to view this as a learning block and as a step in the right direction for next season and for the next upcoming games," Neha said.
This season has also been an injury-filled one for the Lady Raiders. Eleven players were  hurt, including goal keeper Brianna David and sophomores Ashley Surowiec and Sarah Dubon. This has made it difficult for the team to compete.
"Being hurt is so upsetting because I could not go out there to try and help my team win or comeback in a game because of my injury," said Ashley with frustration. She suffered a minor concussion during their game against Dumont and was sidelined for two weeks
The Lady Raiders are still going after their first win of the season. They have set three goals: to take better care of their bodies, to be able to finish out games, and most importantly to one day become the Big North Conference Champions. Their season is still not over yet and they still have upcoming games against Garfield and Fort Lee to wrap up the season.