Spanish Honor Society Inducts 30
On January 15, 2015, DMAE's Spanish Honor Society (SHS) hosted an induction ceremony for its new members at Meson Madrid, a Spanish restaurant in Palisades Park, NJ. The ceremony honored students for their success in pursuing the Spanish language.
Competition was fierce. Minimum requirements for applicants included being a third year  Spanish student in 10th grade, and having a 3.5 GPA.
Junior Anna Levinson, the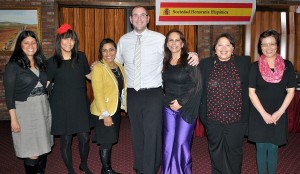 newly elected president of SHS, welcomed guests in Spanish. For her, the experience was particularly special.
"It finally felt like I had accomplished something that wasn't just for a college resume or application but also for the sake of experience," she said.
Ms. Gil, Spanish I Honors teacher and advisor of the Honor Society, was present at the ceremony along with Ms. Flores, the Spanish II Honors teacher, and Ms. Nieto, the Spanish III Honors teacher. The trio of teachers served as a reminder of the three years that the students have dedicated to the Spanish language.
Junior Ankit Shingala, vice president of the society, attended the ceremony and told of his specific mission.
"My role is to create a leadership environment to promote the Spanish culture by incorporating Spanish plays," stated Ankit. "That's what Anna and I have been trying to do," he explained.
The society welcomed 30 new members this year; however, its mission is far from complete. Anna and Ankit, along with Ms. Gil, Ms. Nieto and Ms. Flores look forward to exposing members to more of the rich Spanish culture.