Big Hero 6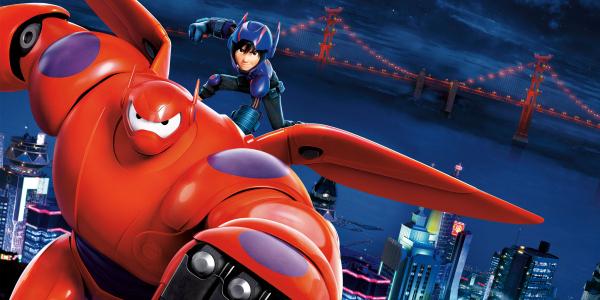 What do you get when you combine the master animation of Walt Disney Studio and the thrilling stories and characters from Marvel?: "Big Hero 6."
The story centers around Hiro Himada (Ryan Potters), a 14-year-old super genius who graduated high school at 13. He lives with his brother Tadashi (Daniel Henney) and Aunt  Cass (Maya Rudolph) in San Fransokyo while enjoying his favorite hobby of betting on bot fights.
San Fransokyo was designed by the animators to be combination of the style and cultures of the major cities San Francisco and Tokyo. In my opinion, it was beautifully done. You can see the classic trollies of San Francisco as well as the use of the Japanese language on signs. The buildings in the city combine both cultures in the architecture. The city was meant to combine eastern and western culture and I believe it does exactly that.
Hiro has no interest in doing anything else with his intellect until he meets an inspiring robotics professor Robert Callaghan (James Cromwell) and Tadashi's college friends: Honey Lemon (Genesis Rodriguez), Go Go Tomago (Jamie Chung), Fred (T.J. Miller), and Wasabi (Damon Wayans Jr.). He is also introduced to Tadashi's project, Baymax (Scott Adsit), a healthcare companion robot.
What immediately grabbed my attention was the diversity amongst the characters. The main characters include asian, hispanic, and african american characters as well as giving female characters a chance to be in the spotlight as heroines.
After his meetings, Hiro wants to get into The San Fransokyo Institute of Technology, the college Tadashi and his friends attend, but must first impress Callaghan with a new invention. He creates a microbot with numerous possibilities that immediately impresses Callaghan as well as a business executive named Alistar Krei (Alan Tudyk). Hiro is convinced to not sell his invention by Callaghan and is granted acceptance into the school.
Here, it becomes obvious the plot is beginning to thicken. There is clear tension between Krei and Callaghan, who seems to have some sort of grudge against Krei.
Hiro and his brother talk after the convention when suddenly a fire starts at the convention hall. Tadashi, learning Callaghan is still inside, goes inside to save him. Before Hiro can stop him, the building explodes, killing Callaghan and his brother in the process.
Tadashi's death was a big surprise to me and it also hurt to see such a good character go. It was also heartbreaking to watch Hiro and the other characters mourn over his death – especially the scene right after the explosion where all the other sounds were muted other than Hiro calling out his brother's name.
Hiro spends a few weeks in a state of depression until one day he accidentally drops something on his foot. His cry of pain triggers Baymax to come to heal him. Hiro is unwilling to interact with Baymax until he discovers one of the only surviving microbots is trying to escape to connect with the others he created – ones that should have been destroyed in the fire.
I like the way the filmmakers slowly brought Hiro out of his shell. Weeks after Tadashi's death, Hiro isn't ready to join his new friends in college and it doesn't look like he's done much more than sit around – which is believable for someone who had just lost the last of his immediate family. It's only through a lot of care from Baymax that Hiro is slowly able to return to his old life.
He and Baymax follow the microbot until they reach a warehouse where they find Hiro's microbots and more being produced. Before they can search for clues, a large man in a black cloak and kabuki mask tries to kill them. When out of harm's way, Hiro comes to the conclusion that the man who attacked him set the fire that killed Tadashi. He is determined to catch the man and teaches Baymax karate and gives him armor.
Hiro's first encounter with the man in the mask, also known as Yokai, almost has him killed. Luckily, his college friends are able to get him away before he gets hurt. He encourages them to join him to catch the man who killed Tadashi by forming a super hero team together.
While it may be a bit cliche, I believe this is an important turning point for Hiro. Even if it is for something like revenge, he is finally able to focus on something other than his brother's death is able to get help from his friends.
Without spoiling the main plot twist of the story, Hiro learns to move to the future and depend on others when he needs them. This movie is fantastic for any age and I wholly recommend it for anyone who is ready to be on the edge of their seat.
Big Hero 6 was first released in the United States last year on November 7th. The movie was released on dvd on February 24th.