Grieco Games: Freshmen Blowout
1,2,3, DODGEBALL times two. This school year is the first time that the Dr. John Grieco Scholarship Fund will hold two Grieco Games fundraisers. In prior years, the Games were planned for late March, but this year Games were held in November and will be held again in March. The DMAE freshmen are excited about this planning as valiant winners of the dodgeball competition at the November Games.
"We put the team together last minute and the games were way too easy,"said freshmen Chris Kim boldly, who was a member of the winning team.
The 2014 Fall Grieco Games took place on Friday, Nov. 24, 2014, after school in the Dwight Morrow Gymnasium from 4:30-6:30 p.m. The main event was dodgeball but there was also ping pong and a basketball three-point shootout, along with students from Judy Aronson's John Grieco Scholarship Fund Club and elective selling snacks, pizza, and refreshments to students who came to the games. Each team needed $2 per person to participate in the dodgeball tournament. Teachers, staff, and students took part in the games.
"It was an awesome competition this year," Ms. Aronson said. "The freshmen made a statement on that day. So often we have seniors that feel they are entitled to win and honestly, that ain't life," she added smiling.
The dodgeball tournament was a complete blowout with the underdog all-freshman team named "Skittles." Their highly enthusiastic team captain was freshmen Peter Pil.
"The competition for the games this year was a complete joke," Peter said.. "My squad ended up going to the top without even trying and no one expected us to even come close to winning except ourselves," Peter explained..
Ms. Aronson was glad the Skittles team played their hearts out and thought they won fair and square.
"I loved their spirit and enthusiasm, especially Katie Armstrong — she was a beast," Ms. Aronson said.
Due to snowy weather conditions on the day of the games many participants could not stay to play or even watch. However, $500 was still raised for the Fund.
The March Grieco Games promise more competition, more players, and maybe a new champion of the famous dodgeball tournament.
"To any upperclassmen who feel they should have won there could be a thrilling rematch in March," Ms. Aronson suggested.
About the Contributor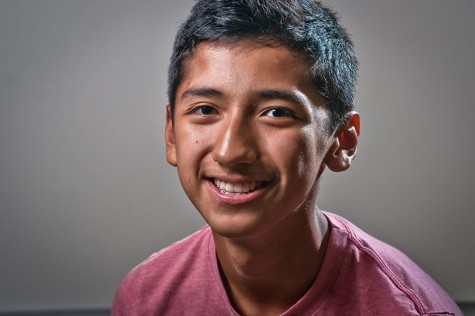 Cristopher Rojas, Co-Sports Editor
Cristopher Rojas is a sophomore in the Biomedicine Academy.  He is a part of the school's football team and plans to join the basketball and baseball...