Orange is the New Black – and Black Is In
Orange is the New Black or OITNB is a hardcore comedy drama that shook the television world by storm over the last two year. This is Netflix's fifth original television show created and written by Jenji Kohan and premiered its first season on July 11, 2013, and the second premiered July 10, 2014. The fantastically woven story and unique characters are inspired by Piper Kiper's memoir: "Orange is the New Black: My Year in a Women's Prison."
The comedy-drama begins with Piper Chapman (Taylor Schilling) a young, blond living in New York City whose life as an upper middle class fiancé to struggling writer Larry Bloom (Jason Biggs) is turned upside down when she is sentenced to 15 months imprisonment. Her crime: transporting drugs  over ten years ago for her ex-girlfriend, Alex Vause (Laura Prepon), who was also a drug smuggler. She has a rough start when she insults the head chef's, Galina "Red" Reznikov, cooking. Her one mistake has her starved by the kitchen staff with the inability to get food any other way. Using her wits, Piper is able to make peace with Red – but that's just the start of her problems. Not only must she adjust to prison life and the women around her; Alex Vause, the woman she has come to despise most is her prison mate. However, what really made the show was the characters whom the actors pulled off immaculately.
What I loved most was the characters. As much as I love shows like The Big Bang Theory and  BBC's Sherlock, both have a gross lack of people of color and characters of different sexualities.
Not only does this show have multiple characters of different ethnicities and sexualities, but also has a transgender character played by a transgendered actress. Of course, the backstories and personalities of the characters are nothing to ignore. OITNB would not be the same without its truly talented and original cast. However, with all its shining points comes a few flaws.
My main problem with the show is how farfetched it can seem. The prisoners walk around the jail with very little supervision, there are only five guards shown to actually be working and watching the inmates, and they can get away with alot, including but not limited to selling cigarettes and other banned products and forming well organized groups among themselves. I believe this is a result of keeping up the "drama" in "drama-comedy" and it doesn't take away too much from the overall enjoyment of the show, which has been given overwhelming praise.
OITNB's season 2 has received slightly better ratings than its predecessor, but they both are Metascore.com gives the first season a 79 and a user score of 8.5 and the second score received a score of 89 and a user score 8.4. Both are very positive scores. Rottontomatoes.com gives the first season a 93% and the second season a 97%. Critics have also given OITNB positive reviews.
Isaac Feldburg of We Got This Covered said, "With stellar acting, strong execution and borderline-brilliant writing, the first season of Orange Is The New Black is criminally good, addictive television."
James Poniewozik from Time said, "The show becomes more engrossing as it spins out from her story, fleshing out the inmates, their backstories, and their alliances. You may come for the culture-clash cringe-comedy; it's the real human stories that will have you captivated."
OITNB has won and been nominated for numerous awards over the last couple of years. The show has won in the 4th Critics' Choice Television Awards, the 25th GLAAD Media Awards, the 66th Primetime Emmy Awards, the 40th People's Choice Awards, 18th Satellite Award, the 30th TCA Award, and the 2014 Young Hollywood Awards and has most of its' highly deserving actors honored including Taylor Schilling, Laura Prepon, Uzo Aduba, Kate Mulgrew, Laverne Cox, Natasha Lyonne, and Pablo Schreiber.
I went into the series excited as I personally am a big fan of cop shows and the drama genre in general, but OITNB was far better than I expected. Despite being generalized as a comedy show, there is so much more to it. The show is more about family, finding yourself, and getting back up even when life pushes you down – again and again and again. Despite marketing Piper as the main character, the show never shoves its supporting characters into the shadows, but brings them into the light so that you learn everything about them.

Orange is the New Black is currently on hiatus and is projected to return in the summer of 2015. Season 1 and season 2 are currently available to watch on Netflix.
About the Contributor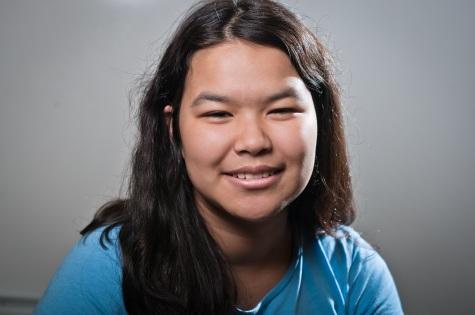 Emiko Hernandez, Copy Editor and a Reporter
Emiko Hernandez is a senior in the Finance Academy. This will be her second year as a staff reporter on The Maroon Tribune and she is excited to continue...