Poetry Slam at Starbucks
On January 9,2014, at 4:00 p.m. poetry mixed with the symphony of frappuccino drinkers, barista calls, casual chatter, and chairs screeching on the floor at the Starbucks on Palisades Ave. in Englewood. It was DMAE's ZONE Poetry Slam and what rang clear was the raw talent of 20 spoken-word poets representing DMAE. "It is powerful that young people can speak truth and say important things with such beauty," said organizer Amy Eagan of The ZONE. "It is social justice poetry. Very, very groundbreaking," she added with wide eyes and a bright smile. The Poetry Slam was a platform for students to express their feelings and vision. Some students performed personal pieces related to issues of the LGBT community while others shed light on the realities of today. Students who took the mic were junior Asjia Williams, sophomores Eugene Brown and Melody Magly, and freshmen Gamma Hammond and Erika Thomas. Emcees senior Aliyah Mangan and freshman Michael Bailey pumped up the tiny coffeehouse crowd who were treated to a barrage of creativity. Melody Magly performed "Exodus 2400" paralleling the sacraments of church to the tribulations of an SAT class. The patrons of Starbucks couldn't help but turn their heads to listen to the spirited "Rhyme Time" by Eugene Brown. "It was a balance of both my personal feelings and ideas to relate to the greater community," explained Eugene enthusiastically. Guest poet Dawn Crandell was also in attendance at the event. He came to see the public performances of the students. Mr. Crandell had worked with students for six weeks prior to the Poetry Slam in afterschool sessions. He broke down the different aspects of creative writing and even helped students with breathing exercises. His dedication helped opened doors for shy performers with powerful minds and gave an outlet for those who wanted to learn to express themselves in different ways. The performance lasted an hour. Patrons and friends left in awe of the courage and level of skill all the writers had. "I wasn't aware of how clever and deep many of the students on our campus are. I saw a new side to many of my peers," senior Ashley Clark concluded.
About the Contributor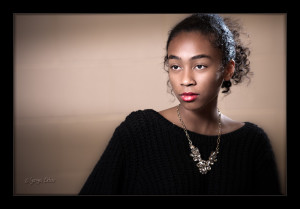 Anya Peters, Reporter
Anya Peters is a senior and first time member of the Maroon Tribune. As a lover of poetry and the arts, Anya is also very interested in journalistic approach...