Marching Band Atlanta Tour and Six Flags Performance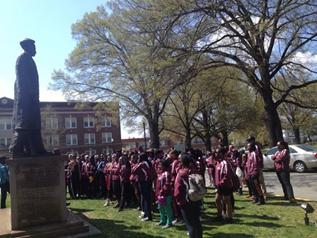 Sometimes, a few days can change how a person sees his or her future. A trip to Atlanta, GA, for DMAE students in April, was quite a thrill. An educational atmosphere, lively streets, and most importantly, music, was what motivated students to pursue their futures through music.
April 8-13, 2014, were very busy days for DMAE students of all ages who are in the marching band and HIP Chord elective.  Sophomores Melody Magly and Yume Murphy were determined to sightsee and enjoy the trip.
"My friends inspired me to go and so I went," said Melody looking over at Yume. "I wanted to see many colleges, especially Spelman College which I am so inspired to go to," added Yume more seriously.
Gary Hollander organized the trip and offered students a variety of college options.
"I chose Atlanta for many reasons. It has been the Marching Band's mission to expose students to as many colleges as possible and I wanted the students to be given the opportunity to visit schools in this particular part of the country. We went to Clark Atlanta University, Spelman College, Morehouse College and Georgia Institute of Technology."
Evidently, Dr. Hollander wanted this trip to be more than a memorable, musical occasion. He wanted this to be productive in terms of the students' career choices.
"Students were able to compare and contrast different colleges and what each of the many programs offered," he said.
Atlanta had much to offer other than colleges for the band students, as well. They were very excited to see tourist attractions such as The World of Coca-Cola, CNN Studios, and Hard Rock Café.
According to Dr. Hollander, this five-day trip was not only instructive, but also gave students a chance to widen their musical horizons, which was the initial reason to go to Atlanta: the Marching Band performance at the amusement park Six Flags.
"On the last day of the trip the band performed on stage at Six Flags over Georgia," Dr. Hollander said. "We played selected songs from our fall season."
Although the trip to Atlanta was much fun for everyone who went, it was actually very exhausting to ride the bus as it was a very long trip.
"The bus trip was long and tiring because it was overnight. Two of the five nights were spent on the bus," said Yume.
Nevertheless, one trip to Atlanta changed it all for some students. They were prouder than ever to flaunt their musical aptitudes and had a look into their futures by choosing possible college options. This trip was more than a band trip; it was a chance to pursue their dreams.