Induction Ceremony
The Induction Ceremony has taken place every May at the Academies@Englewood for over a decade and over 1,000 students have been accepted into the A@E program. The 2014 ceremony for the class of 2018, held May 14, 2014, began with piano music and singing performances by the DMAE Chorus, and ended with a song in the Admissions director's speech.
Serena Wong welcomed the eighth graders and their parents with a recital of piano tunes setting a formal tone for the celebratory night. Students and parents smiled and chatted quietly as they took their seats and waited for the event to begin.
This year approximately 130 students were accepted to this program and most were there in the DMAE Dizzy Gillespie Auditorium that night. Not only were the students proud of their success, as could be seen in their bright eyes, but so were the parents.
"I am very proud of my son getting accepted to this program," Matthew Konopka's mom noted. "He has started a new chapter in his life that has made us as a family, very happy" she added.
Director of Admission Leslie Eaton told students in her speech how proud she was their success. Ms. Eaton also made the class of 2018 laugh with delight when she sang in her speech.
"Raise your hand if you're familiar with these lyrics," Ms. Eaton began. "Clap along if you feel like a room without a roof," sang Ms. Eaton, "because I'm HAPPY! Yeah, you know it – the song 'Happy.'"
At the end of the speech Ms. Eaton also gave an acronym of the word happy to the incoming freshman.
"H – Be Honorable – a person who deserves respect because you behave to high moral standards. A – Be Appreciative – your hard work will pay off, but don't forget to thank those who helped make your accomplishments possible. P – Be a Participant – the sideline is boring… jump in, feet first and play to win! P – Persevere – continue your effort to do or achieve something… anything, despite difficulties, failure, or opposition you will face. Simply said… Don't quit! And Y is for YES – never, and I mean never, accept No – remember … yes I can, yes I am, and yes I will be anything I chose to be," said Ms. Eaton.
Program managers of each of the five Academies presented the incoming students with medals. Ribbons on the medals were color coded by Academy: Green for Finance, Red for Pre-Engineering, Blue for Information Systems, Yellow for Law and Public Safety and White for Bio-Medicine.
After the ceremony, the incoming freshman went with other members of their respective Academies to a classroom where they had a few minute to meet each other and take pictures and parents attended a reception.
About the Contributor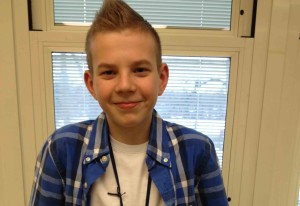 Matthew Roszkowski, Reporter
Matthew Roszkowski is a freshman in the Information System Academy at the Academies@Englewood. He is proud of his 100% Polish background. He enjoys playing...