Englewood Idol: 21st Century Jungle
This year's Englewood Idol brought out the wild side of Englewood in the first ever jungle- themed show.
On Friday, Jan. 10, 2014, at 7:00 p.m., students, parents and teachers were greeted at the Bergen PAC by a dancing tiger-mascot, sophomore Joshua Castillo, and were given the chance to have their face painted like a lion before the show started.
Judy Aronson, advisor of the Dr. John Grieco Scholarship Fund and organizer of this annual event, was thrilled to see how the students embraced this year's opportunities, especially by developing the jungle theme for the t-shirts and the spirit of the event.
"Ms. Aronson and the Board of truste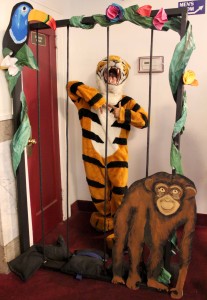 es were very pleased to see the ini
tiative that more than 100 students took. Once they heard of there being a theme, everyone began to come up with many ideas that would enhance the theme," senior and President of the Board of Trustees, Soindos Abdah said.
The 9th annual Englewood Idol featured 12 contestants. The seven seniors including Natalie Saldarriaga, Myshya Spencer, Dasia Capers, Emma Petersen and Fabiola Zapata from DMAE as  well as Gina Marie Henriquez from Northern Highlands Regional High School andJacob Seeger from Dwight Englewood (DE). Underclassmen included juniors Melanie Sunga (DMAE) and Julia Bront (DE), and sophomores, Niaree Thomas, Danielle Chaney and Dan Pak (DMAE).
The show began, as always, with each Idol performing a first song and hoping it would not be his or her only song. They sang singles that ranged from Lorde, Beyoncé, Etta James, Florence and the Machine to an original, written by the Idol herself.
"The talent was definitely on stage this year. Compared to past years, where frankly, I questioned why some people even auditioned, this year every Idol could sing amazingly," audience member, senior Jennyfer Pena said.
Of course the judges had a lot to say about each performance. The five judges were Caroline Pennell, a Ramsey High School senior and contestant on "The Voice," Tracy Waples, an independent music executive known for discovering Kanye West, Florian Bellanger, the famous pastry chef and judge from the TV series "Cupcake Wars," Jerry Lembo, president of Lembo Entertainment and known for the promotion of artist such as Billy Joel and Mariah Carey, and Alexander Diaz, director of Arts Education and Outreach at bergenPAC.
The judges took turns speaking so that not all five of them spoke after each performance! Most of the comments were positive and thoughtful, but some were a bit more critical drawing a few oohs from the crowd. But this year judges even commented on costumes and star quality as many of the performers were styling from head to toe and performing with their mics and guitars.
After performing their introductory songs, all 12 Idols nervously awaited as the judges made their decision on five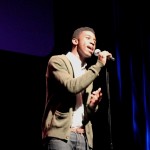 Idols who would move on to the next round. The remaining Idols were Emma, Jacob, Fabiola, Gina and Melanie, four seniors and one junior. The second round saw a heightened competitiveness and amazing performances by all five Idols. The crowd was mesmerized by the familiar songs sung by their peers. Soon it was up to the audience to cast their votes for the Englewood Idol.
This year was the first year votes were cast by texting. Instead of paper ballots, for which the audience was previously given a pen and paper to cast their votes, it was done via text. The audience was asked to text "223-33" with the Idol's first name and the number "14." Simple as that.
"At first when I heard about voting via text, I was concerned because my phone tends to have really bad reception, so I was afraid that my text would not go through due to lack of signal," audience member, junior Veronica Bravo explained.
But there were no reception problems and the paperless tally was a dream for Idol director Mindy Rochman, who in past years had to manage a team of ballot counters. The tally was fast. The audience voted for smooth singing, guitar playing Jacob Seeger. Jacob is the fourth male winner of Idol's history, in the ranks of Nigel Lassiter and Brian Park. Jacob's song choices of "Hold on Were Going Home" by Drake, "Ordinary People" by John Legend and "Señorita" by Justin Timberlake became evident favorites, especially in the teenage girl demographic.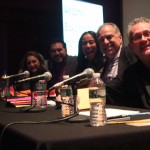 In second place came Gina Marie Henriquez and in third, Emma Petersen. The first prize is a recording session at NV Studios of Fort Lee, NJ, and the second prize is vocal coaching lessons from O DiBella Music in Bergenfield, NJ.
After audience members placed their votes, it was time to see how Englewood could move in Englewood's Best Dance Crew competition. Up first was "Triple Eclipse," who demonstrated their agility through their splits and high leaps. Then came the all-male triple threat known as "Dance Dance Evolution" who at first seemed to be joking but then captivated the audience with their dub-step solos. Representing the DMAE community was "Bollywood Fusion" who embodied the epitome of Indian beauty and talent, and the energetic "Good Girls" provided the Dwight Englewood audience with another chance to support peers.
For all performers, the show preparation became a home away from home.
"Englewood Idol was particularly special for the bonds made between the performers. It always amazes me how these very different students —who come from different schools, different towns, and represent all four grades of high school – become such a family," producer Judy Aronson said. "They are competing to become 'the' Idol, so you would think they would spend every rehearsal snarling at each other and trying to figure out how to trip each other as they walk onto the stage. But I watch them spend months coaching each other, critiquing each other with brutal honesty, hugging and laughing and crying together. It's really magical what these kids pull off, "she said
The preparation for Englewood Idol is a long process which requires sustained collaboration and team work. For three months, Ms. Aronson, Ms. Rochman, and art teacher Grace Browne, along with other dedicated volunteers, the 75 students in the Dr. John Grieco Scholarship Fund Elective and Club and 18 seniors on the Board of Trustees, worked together to organize the event.
"What made this year different was the way everyone really worked together in order to make this Idol a more memorable experience," board of trustee member and senior Nicholas Sarria said.
As for the Idols? They stayed after school almost every day until 8:00 or 9:00 p.m. and sometimes even 10:00 p.m. From choosing songs and perfecting them and finding the appropriate instrumentals, Idols were under a lot of pressure. Semi-finalist Melanie Sunga had some very stressful months as both a contestant and the musical director for the show.
"It was way more stressful because as the musical director, I arranged and edited the instrumental tracks of the Idols and put all the music together for the show," Melanie remarked.
Englewood Idol would not have been possible without the generous support from sponsors. This year's sponsors brought even more interest and attention to the show. Students who live in Englewood Cliffs and have parents who work for LG Electronics USA helped to secure LG as the mentioned Diamond Sponsor of the event. In addition, new supporter Honda of Tenafly joined with Englewood Hospital and Medical Center, NVE Bank, TD Bank, and the Northern New Jersey Community Foundation as Platinum Englewood Idol Sponsors.
The 2013-2014 Englewood Idol competition was the opposite of its primitive jungle theme – it was a 21st century production and the most enjoyable yet for the audience, the judges, the sponsors, the students and especially the Idols.
"Englewood Idol was one of the best experiences and even though it was a competition between 12 people, it felt more like a family. We always helped each other and we all shared one common love which is music," Idol and senior, Natalie Saldarriaga said.