The Vice Principal, The Teacher, The Student
What are the first words that come to your mind when you think of an administrator? Intimidating? Strict? Not so with new Vice Principal Laura Satterfield. She is friendly and cheerful.
Ms. Satterfield's office supports her attitude. The light, airy windows bring in a vibrant light and the colors of nature, a warm work space in which she shows her positivity despite the everyday hustle and bustle of her new responsibilities. She described her job as more meetings, more phone calls, and varied testing concerns.
Prior to her promotion, Ms. Satterfield was a history teacher for six years, and has taught much of the student body. This gave her an advantage entering the administrative level in education. As a result of her teaching experience, she knows the importance of giving support to students and teachers as part of the administrative team.
"I want to improve instruction and restore the sense of community and academic success Dwight Morrow once had," Ms. Satterfield said.
Ms. Satterfield is aware of school changes going on at the national level as well and wants to prepare DMAE students for what is to come. She wants to inspire them to push themselves, too.
"The potential I know we have can be realized. That is my goal," said Ms. Satterfield with emphasis.
Right now, she is focusing on raising scores for the HSPA and PSAT. However, each day is a struggle to do it all. Even with a set agenda for the day, she said that schedules get off track because even the smallest thing can create a ripple effect. The best thing to do is get right back on track.
"I'm always fighting against time," Ms. Satterfield explained.
Ms. Satterfield believes in the lessons that she has acquired throughout her life. At an early age, she was taught that there is no excuse not to succeed. Her grandparents immigrated to the United States from Puerto Rico and learned to survive in the streets of East Harlem. Her mother, although faced with problems of her own, earned three master degrees and became Dwight Morrow High School's principal at one point in her career. Ms. Satterfield keeps the strength of her family in mind when she thinks of ways to improve herself and DMAE.
"My parents were two awesome people. Despite all odds, they made it. I grew from their strengths and I learned from their mistakes," she said.
Ms. Satterfield has been involved in a Latin-based sorority since 2000, enthusiastically advocates for National History Day, and is currently going to school for her doctorate at Seton Hall University. She has a lot on her plate, but said that she learns each step of the way. Her advice is clear.
"It's okay to make mistakes," she explained, "but own them." She paused and took a deep breath, and then added, "The biggest thing is, don't be too quick to judge."
About the Writer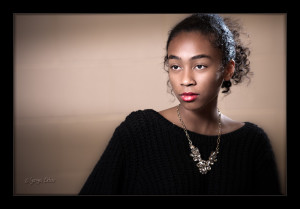 Anya Peters, Reporter
Anya Peters is a senior and first time member of the Maroon Tribune. As a lover of poetry and the arts, Anya is also very interested in journalistic approach...