Girls Volleyball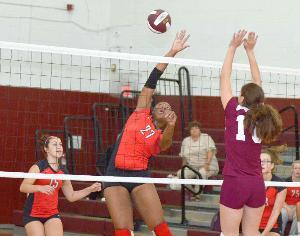 On October 23, 2013, the Lady Raider Volleyball team had faced Bergenfield in a highly anticipated game that was sure to be a thriller. With their season slipping away, at the record of 2-13, the Raiders were desperate for a win. With their continued hard work vested in their tough season, the players looked to improve their struggling record in the final three games of the season; first kicking off with the match against Bergenfield.
The starters for the Lady Raiders were seniors Kristine Baltazar and Emma Peterson, juniors Yulissa Rojas and Jessica Baroni, and sophomores Elizabeth Titova and Giannina Garcia.
In the first set of the game the Lady Raiders dug themselves into a hole where Bergenfield's Bears took advantage of the opportunity. With miscues defensively for the Raiders, it gave the Bears enough confidence to pull ahead by approximately 12 points and end the first set with a score of 25 to 13. Although the Raiders had scored some points in the set, they were not able to hold down the Bear's lead.
Giannina Garcia, a frequent starter, commented, "In the first set we fell asleep but in the second set we woke up and began to beat them."
With the Bears' egos sky high, they came into the next set more comfortable with the thought that their chances of taking this set, and winning the match, were easy. While Bergenfield was in their happy mood the Raiders felt a bit disrespected in the sense that a team took their game against them for granted.
When the second set began the Raiders exploded with offense and came out with an extremely dominant defense. This stunned the Bears but their resiliency prevailed as their offense roared back and their defense screamed with intensity. The final score of the second set was 25-23; an extremely close win by the Bears.
"Our offense caught fire but our defense could not hold them down," Giannina Garcia said.
For the Raiders who were looking ahead to win their last game of the season on Monday, October 28, 2013, they have shown their tireless effort in their season. They have continued to work very hard in practice day in and day out despite their record showing Raider Pride and belief in each other.
About the Contributor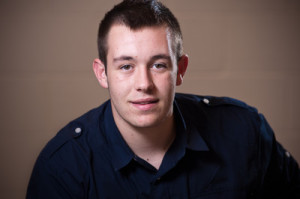 Cristian Milevski, Staff Reporter
Cristian Milevski is a junior in the Law and Public Safety Academy. He is actively involved in both the school's Varsity baseball and football team....