Welcome to Raider Pride
We spoke and they answered. The proposal to change the school's atmosphere into a more positive one has sprung, thanks to teachers and administrators who are carrying a new initiative forward.
Last school year, the school conducted a survey that gathered DMAE students' opinion of the school environment and how they felt it could be improved. Some students complained about the need for improvement in the school's atmosphere.
"On the survey last year, I wrote that the school needed a change of pace and more positive energy. Too many people were getting suspended and fights were breaking out for no reason. As a school we needed to change this," senior Jennyfer Pena said.
This 2013-2014 school year, DMAE is implementing a program called PBSIS (Positive Behavior Support in Schools). PBSIS, is funded by the New Jersey Department of Education, provides school staff with training and technical assistance to create environments that encourage and support pro-social student behavior. For example, environments that include school spirit, positive attitudes, fewer school detentions/suspensions, and a greater focus on helping students with disabilities to succeed.
"Our ever improving school always needs more change and it is our duty as a school to change the social climate," said Adrian Bickham who is the Focus Representative for PBSIS for DMAE.
There are many PBSIS Universal Team members who are managed by Ms. Bickham and supported by administrators Carol Bender, Joseph Armental and David Murphy. Team ambassadors consist of campus faculty Alexa Rodsan, Grace Browne, Liz Corsini, Fina Espina-Flores, Karen Gianetti, Dennis Sullivan and football coach Barrington Harris.
"We want our students to take pride in their school; that is the most important thing because along with pride comes respect, responsibility and positivity," Vice Principal Joseph Armental commented.
The PBSIS program recognizes and rewards students with "Raider Rewards." For example, after a student does a good deed or is courteous to someone, his or her teacher can be reward the student with an orange card. At the end of every week, there is a drawing from all the "Raider Rewards" cards in the box, and the person selected wins a prize.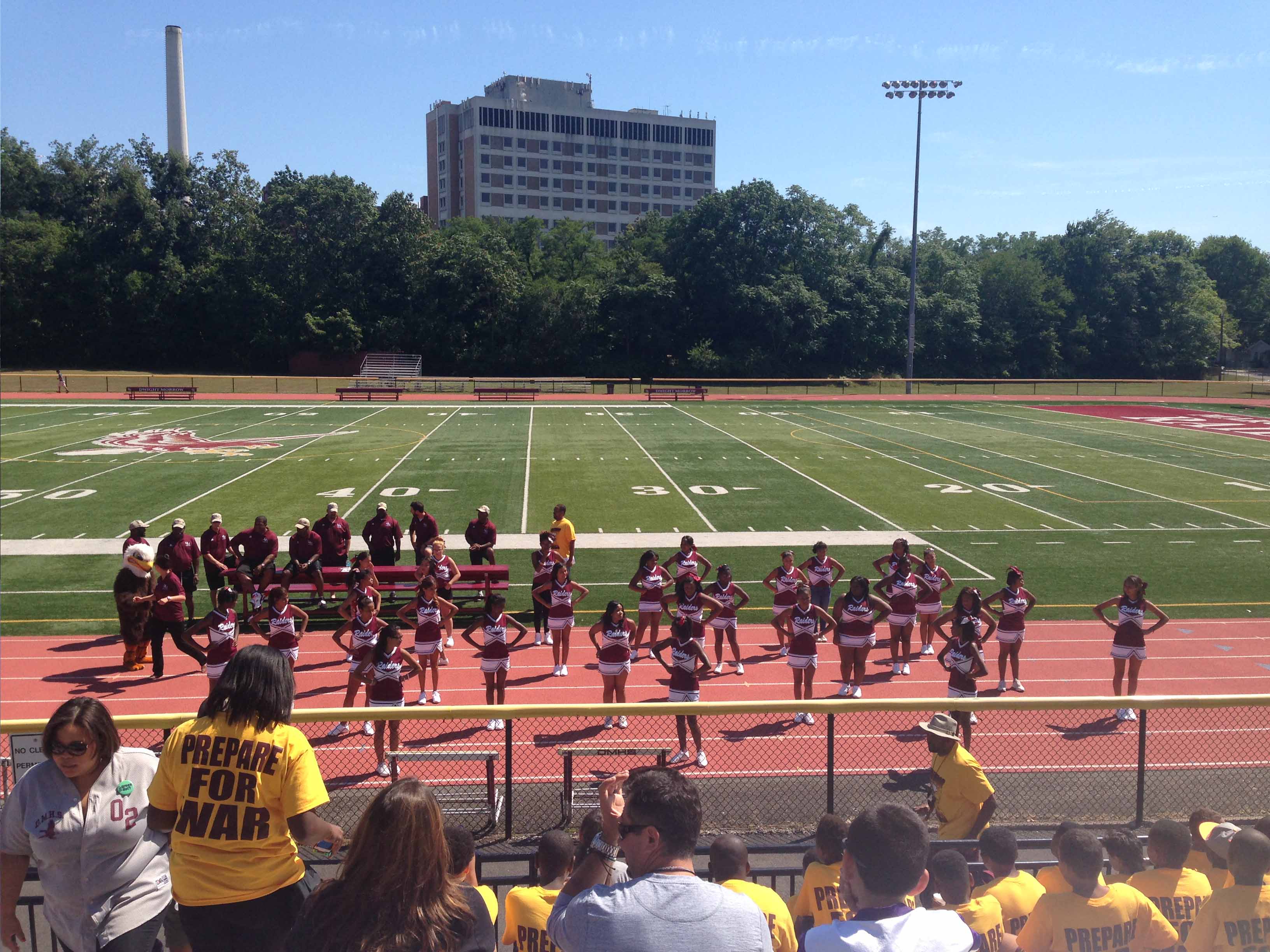 "Who doesn't want a prize? Students are eager and encouraged to behave positively in order to receive a prize," remarked Ms. Rodsan.
The DMAE focus for the PBSIS initiative is to push students to become more school-spirited.
School spirit asks students and faculty to become more involved and lively when it comes to school related activities such as Homecoming and Game Day.
The first event created for school spirit was the Saturday after the first day of school. On Sept. 7, 2013, at the Winton White Stadium, parents from the Dwight Morrow Football Parent Coalition gathered at the stadium to celebrate the DMAE marching band, cheerleaders, Varsity and Junior Varsity football teams and coaches. Senior football players were individually announced, there were animated performances by the band and the cheerleaders, all of which marked the beginning of the football season by announcing the list of senior football players, a performance by the band and the cheerleaders.
"Homecoming is just around the corner, and as senior, I want to know that I am supported by my school, whether through school spirit, attendance at the games or involvement in school activities," football team captain Juwann Winfree said.
The team's wins against Dumont and Ridgefield Park have certainly raised the spirits of many on the DMAE campus.
"I believe this year's football team has a lot to prove due to last year's successful season, but I do believe that they have the talent and potential to do great things this season," asserted senior and cheerleader captain Erica Patterson.
It is clear that the spirits are high here on the DMAE campus. Ms. Rodsan described that this pilot program will continue to develop and grow throughout the school year with planned events and a positive attitude. The first event is set of Nov 1, 2013, when the campus will have a Kick-Off that culminates in a Pep Rally.
"As an administrator, I can say that I have already noted a difference in the way students are behaving with one another. There is a developing sense of community students are becoming aware of," Mr. Armental noted.