Rain Spills on Thrill of Physics Day
Students excitedly boarded the bus on the morning of May 24, 2013 praying that it would not rain. Skies were clear in the morning as they drove to Six Flags for the annual Physics Day Trip.
Advised by Mr. Mechail and new teacher, Mr. Pratt, the trip required students to make a couple of measurements on select rides and then perform some calculations on their way home. The roller coaster packet served as an end of the year lab grade for both the Honors and AP Physics classes.
"The forecasted storms got me worried about the trip, but I tried to put everything aside and keep a positive attitude," junior Reshma Kuttappassery remarked.
The two rides the students were asked to ride, Nitro and the carousel were located at opposite ends of the park, giving them plenty of time to explore. Unfortunately, Nitro was closed for most of the day because of the bad weather, which prevented most students from completing the majority of the packet.
Although some students tried to make the most of their trip, other students, and even teachers stayed dry and warm indoors.
"In the past years, I have gone on rides with some students but this year the rain made me want to stay indoors," chaperone, Mr. Cirilli said.
Surprisingly, the inclement weather did not affect Mr. Pratt's mood at all. The new physics teacher rode Nitro twice in a row, requiring him to skip his lunch!
His positive attitude quickly went downhill when an unexpected turn of events took place. For the first time in years, DMAE experienced serious disciplinary issues in the park. Two students were accused of shoplifting, threatened to be kicked out from the park and sent to security for pick up by a teacher.
"It was really disappointing for us, and we hope it will not affect our plans for next year," Mr. Pratt commented.
Luckily, Mr. Pratt has already excitedly made plans to conduct the trip a little differently next year.
"I want students to take more measurements rather than sit inside making calculations. This'll let them enjoy the park more," Mr. Pratt explained.
Mr. Pratt and Mr. Mechail plan to continue this tradition for many more years to come, allowing students to gain a hands on experience with physics.
About the Contributor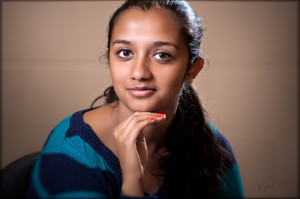 Aneeka Ayyar, Co-Editor
Aneeka, a senior in the Biomedicine Academy, is in her third year as part of the Maroon Tribune staff. Her love for newswriting is clear through her position...