March 2013 on the DMAE campus brought out both spirit and spite on Game Days this year, marking the end of the month-long celebration of school spirit known as March Madness. For the first time, however, this year's spirit was best shown in Morrow Madness Games which the Seniors won, whereas the spite was shown in A@E March Madness competition which the Pre-Engineering Academy won.
On March 27-28, 2013, students participated in March Madness and Morrow Madness Game Days dressed in layers of clothing. They fashioned hundreds — some even thousands– of beads and strings of vivid colors representing their Academy or grade level.
A@E March Madness
"Without surprise, the auditorium was filled with excitement and spirit," commented Christina McGrath, coordinator of the March Madness Game Day that took place on March 27.
Each Academy participated in the traditional Millionaire Game hosted by English teacher Mindy Rochman, and then while results were finalized, they played "Name that Animal," for which a student from each Academy hopped to a finish line for the chance to make the guess. The fastest hopper got to guess the animal.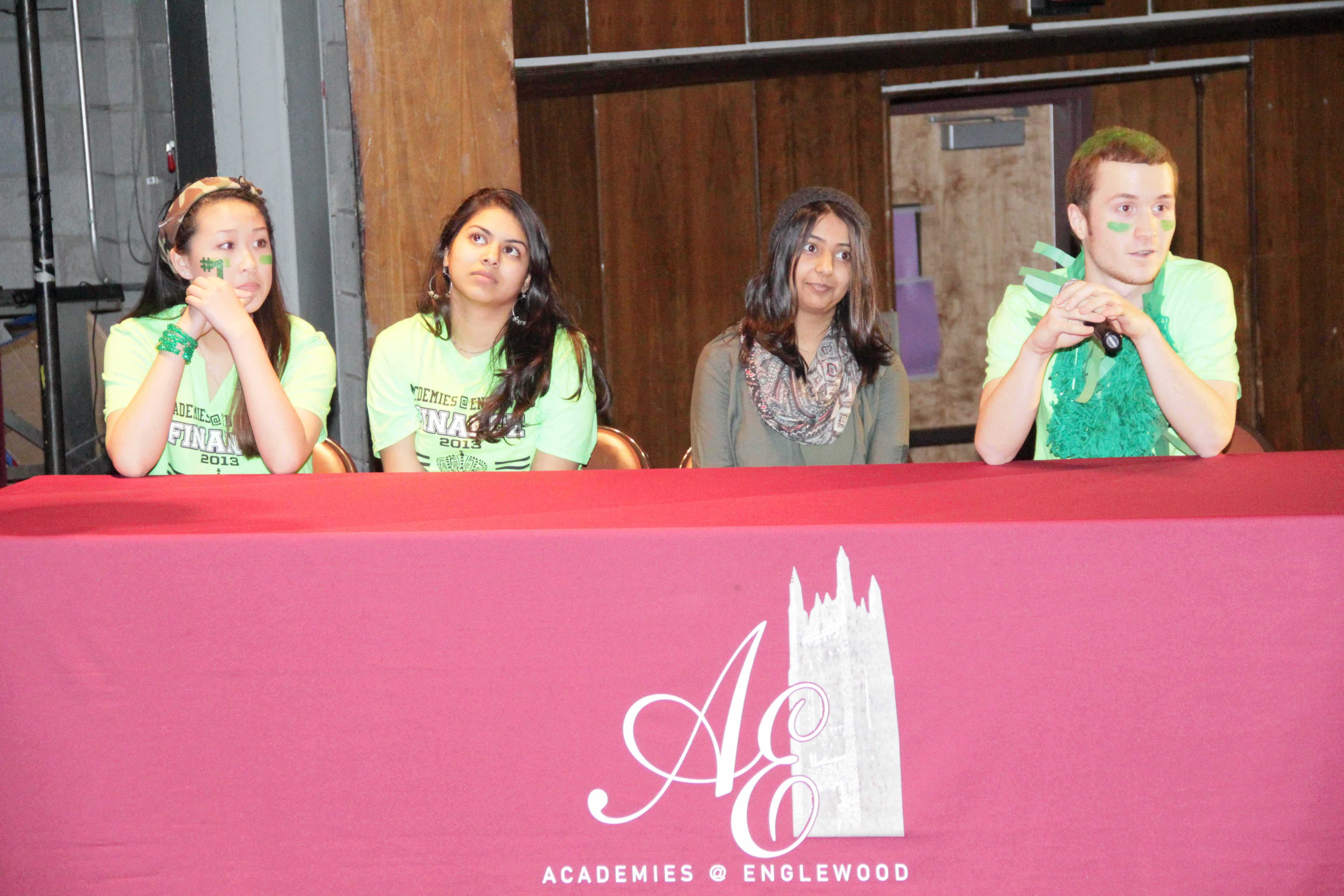 All month long, students participated in a series of competitive activities such as Nerd Day, College Day, Pajama Day, and many more in order to gain points for their Academy or class. By the end of the month, Pre-Engineering had gathered the most points and held the first place title.
"I think Pre-Engineering was really into it this year unlike last year, where we only had some people bringing in thousands of points," sophomore Daniel Atehortua pointed out. "This year we had a lot of people that went hard; we had every graduating class helping each other out and a lot of support from our new program manager, Mr. Sherry."
What made the Games more spite than spirit were two occurrences. First, during the month-long point making, a freshman student made the mistake of eavesdropping on the plans of another Academy. The second way in which the A@E Games became a little sour was the apathy and acrimony shown by some seniors.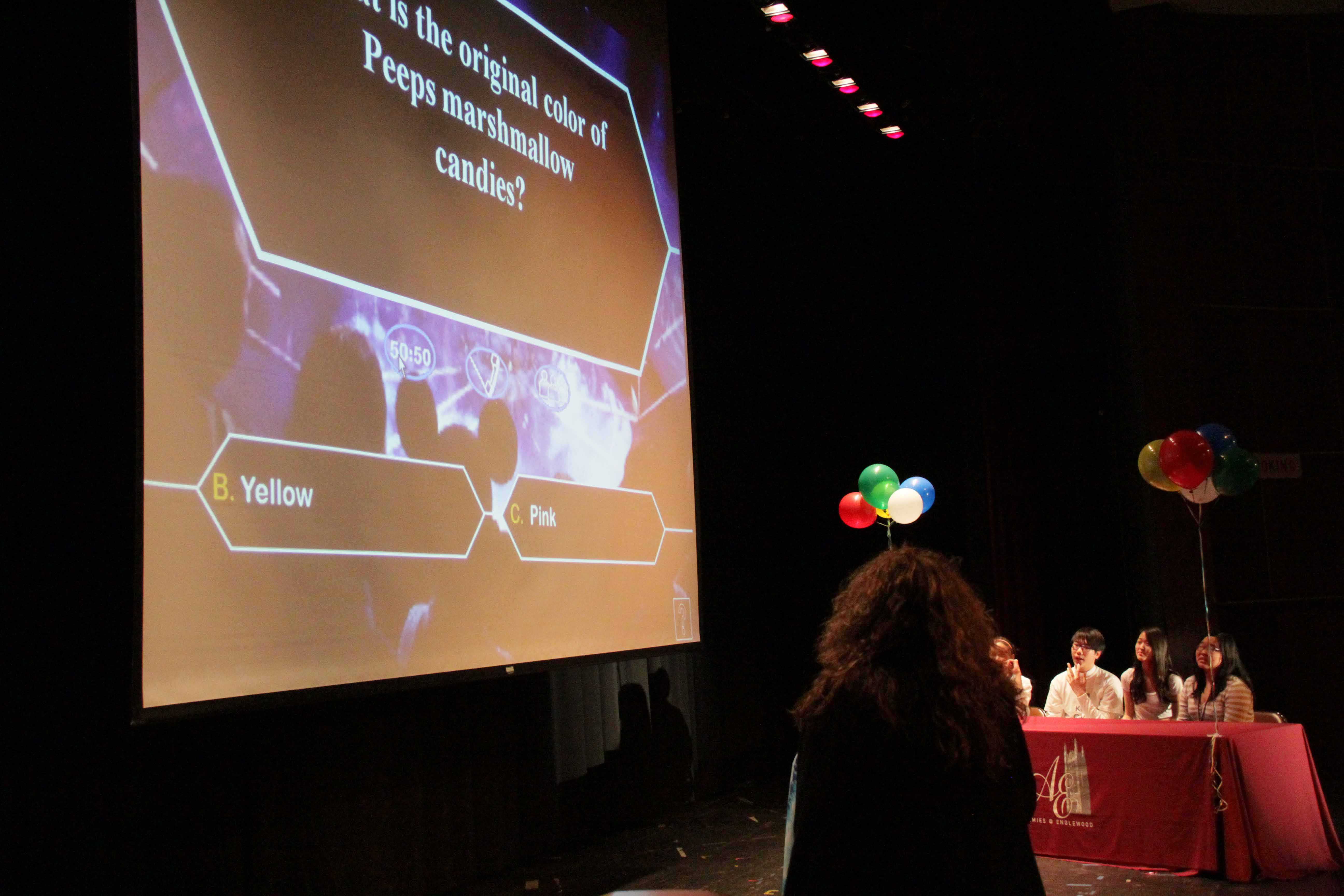 Although the excitement for Pre-Engineering was high, some upperclassmen in other Academies did not participate, and a few of them were spotted sitting in the back seats of the auditorium during Game Day. Some even walked out of the auditorium after becoming upset with the results.
"I think it was very immature and disrespectful when some of the Law Academy students walked out," junior Johanna Bekas commented.
Although Ms. McGrath was very disappointed with the behavior of those students in the Law Academy which she described as the "complete opposite of the Academy standard," she plans to continue the March Madness traditions for years to come.
DMHS Morrow Madness
This year's Morrow Madness was very upbeat compared to the past years.
For the first time, teacher Heather Leibowitz coordinated the Dwight Morrow's Game Day, which was held on March 28, 2013. Ms. Leibowitz was aided by art teacher Grace Browne and mathematics teacher Alexa Rodsan.
"With the three of us working together along with a team of passionate and dedicated students, Morrow Madness was a fun and successful event," Ms. Leibowitz said.
This year's winners of Morrow Game Day were the seniors, who were the first class to win consecutively. Last year, the Class of 2013 as juniors also won.
The Game day that took place on March 28 consisted of dance competitions, a trivia game with latest pop culture, and of course, "Guess the Lyrics."
"I always enjoy how March and Morrow Madness brings all of us closer no matter which clique you're in. Everyone becomes one big family, despite all the tension" junior Cheyenne Mangan said.
Due to the great success and joy Morrow Madness brought this year, Ms. Leibowitz is certain that she will continue coordinating the event.