American Red Cross Club
Raising $1048 in the first semester alone, the DMAE American Red Cross club had an extremely successful 2013 school year.  From pizza sales to a unique fundraiser idea, the club has earned money for the Red Cross and significantly advocated it cause across campus this year.
Recently Red Cross club member brought in a breakfast food and set it up as a buffet in the teacher's lounge. The club charged three dollars for the all-you-can-eat buffet and also accepted donations from teachers.
"It was a very cool experience! The system worked out really well because the teachers all enjoyed helping out while eating breakfast," Red Cross sophomore Jill Kasvala said. "The breakfast buffet was a win-win situation for all of us."
Not only did DMAE American Red Cross members fundraise, but they also got involved with the Englewood community and the international community as well. On Oct. 25, 2012, students from the American Red Cross Club travelled to the elementary school, warning the children of the safety dangers of Halloween.
"It gave us a chance to teach the young kids some safety rules that they may not have heard before," Amna Ahmed, president of the American Red Cross Club said. "The kids were really excited to have visitors and so the entire trip worked out really well."
In addition, the Red Cross club got even more involved with the community by hosting a canned food drive during the holiday season. The club eagerly supported a yearly canned food drive in Englewood's Metropolitan Church.
"Many people ended up donating and overall it was very successful" Red Cross member Stacy Shatursun stated.
Most recently, the American Red Cross club collaborated with the UNICEF club to create backpacks full of toiletries and school supplies. These backpacks would later be sent over to Palestinian refugee camps located in Lebanon.
"Making backpacks was probably my favorite event this year" Red Cross member Parth Shah said. "We have so many supplies, like pencils, that we don't even use, while over there a pencil can change a child's life and education. It's pretty awesome to think about the difference we are making in these kids' lives."
Surely the sense of donating not only money, but education and advocacy, resonated throughout the year for the American Red Cross Club.
"We found it imperative to put outreach as a priority," club advisor Jacqueline Goolsarran said.
The American Red Cross undoubtedly raised money to help those in need worldwide, but they also educated the youth and gave back to the local community. The club plans to continue its activities for the next year.
About the Contributor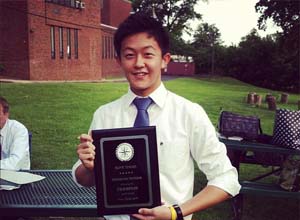 Daniel Cho, Semester 2 Sports Section Editor
Daniel Cho is a sophomore in the Biomedicine Academy. His biggest passion is playing tennis, and he is captain of the Varsity Tennis team. Other than being...