NHS Inducts Fifty Plus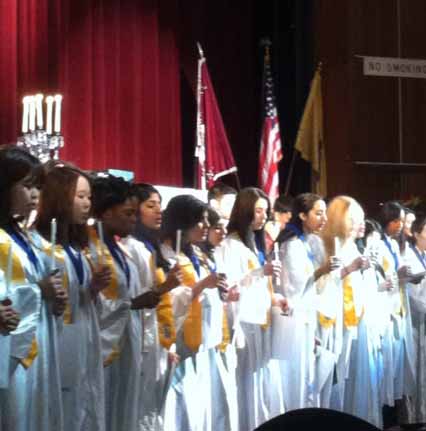 The white-and-maroon-robed scholars gracefully walked down the aisles of the Dizzie Gillespie auditorium. Parents abruptly turned and snapped pictures, leaving conversations unfinished. Students had been rehearsing for this moment all during the week prior, and this was their moment to shine in their shimmering robes.
On Thurs., March 7, 2013, the Delta Mu Sigma chapter of National Honor Society (NHS) inducted more than 50 new members and officers, a record number of inductees in DMAE's history. Administrators and select keynote speakers came to share their words of wisdom with the inductees, along with more than 100 family members. The event received a very positive response from members of the community.
"I had parents, and other guests coming to me saying how much they enjoyed the event!" NHS advisor Jamayla Scott said.
In the past, the admittance into the prestigious organization had only been open to juniors and seniors. For the first time this year, Ms. Scott chose to accept sophomores into NHS. This decision was due to the late commencement of the school's chapter after school budget cuts, early in the year.
"The students technically didn't get a full year of membership. We decided to accept well qualified sophomores to make up for it," Ms. Scott commented.
In order to be admitted to NHS, students had to submit an application with information on GPA, extracurricular activities, volunteer hours, and leadership. As her fourth year advising, Ms. Scott organized this event effortlessly with the help of her executive board including the positions of president, vice president, secretary, treasurer, historian, and parliamentarian.
Approximately 20 students ran for positions, but only six juniors were elected. This year in particular, members of the school's chapter have been more active in NHS events.
"I love my new executive board. I really see commitment from my members," Ms. Scott explained.
The ceremony began with students greeting their families in different languages from around the world, adding a personal touch to the ceremony. Before the distribution of certificates and medals, the members of the executive board delivered short speeches discussing the fundamentals of NHS. Students lit candles to signify their induction into the chapter.
Former president of the chapter, Armon Sadler, passed the honor cord to junior, Soindos Abdah.
"It was such an honor to be inducted as president among my peers. All my hard work finally paid off," Soindos said.
The event left attendees feeling enlightened. In addition, they were heartened that many of their teachers came, including soon-to-be-retired chemistry teacher James Signorelli who wanted to support his students one final time.
"I hope for next year, more teachers will come out to the event. It really shows the morale of our school," Ms. Scott concluded.
About the Contributor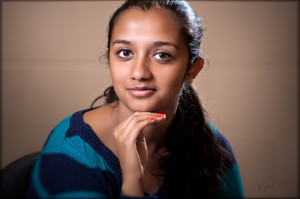 Aneeka Ayyar, Co-Editor
Aneeka, a senior in the Biomedicine Academy, is in her third year as part of the Maroon Tribune staff. Her love for newswriting is clear through her position...