Vinita's Miracle: DMAE Student Author
"Every girl should feel beautiful, and I want everyone who reads my book to understand that."
Freshman Vinita Hizari is known for her long hair, good grades, and strong heart. But many are unaware that she is a published author.
Vinita published her story of a weight loss journey in November 26, 2011. Her short novel is called, All It Took Was a Miracle.
The plot begins with Vinita as a 200-pound, insecure, girl who is reluctant to join school activities. When her mother pushes her to join an Indian dance class, Vinita accepts the challenge hoping she will lose weight.
During the journey of weight loss, Vinita develops a close relationship with her dance instructor, whom she calls Seema didi (older sister). Seema becomes her best friend.
"She touched my heart without even trying," Vinita explained.
Due to some complications with the dance institute, Seema was sent away and prevented from teaching. The rest of the story follows the journey of Vinita and her four other friends to locate their beloved didi. In the end, the girls find Seema and persuade her to return to teach at the institute.
Today, Vinita's story is well circulated in Maharashtra, India, as well as Northern New Jersey. Over 700 copies have been produced and Vinita does indeed make some profit from the sales. Oddly enough, the fame is not her favorite part.
"The best part was watching Seema's reaction," she explained.
Vinita mailed the book to Seema. She instructed Seema to call her the moment she received it. Vinita watched Seema read the book through video chat.
"I could tell what part she was on based on her reactions! It was an amazing feeling. It made all the work worth it," she said.
In addition, a student in Michigan completed a book report about All It Took Was a Miracle. The student later contacted Vinita telling her about her project, and she mentioned that she was coming to New York. Vinita organized a meeting with the student, and the two spent time in New York City for a day.
Will she publish a sequel? Vinita sadly shook her head. She has written many drafts but nothing seems to flow with the original memoir.
"Our relationship is different now. She's more of a mother to me instead of a sister. But she's still my best friend," Vinita commented.
Even though her story began as a weight loss journal, it became an emotional narrative about both herself and Seema, a mutually beneficial adventure.
"I am so proud and lucky that this happened to me. It makes me who I am."
About the Contributor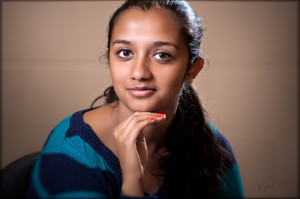 Aneeka Ayyar, Co-Editor
Aneeka, a senior in the Biomedicine Academy, is in her third year as part of the Maroon Tribune staff. Her love for newswriting is clear through her position...