Justin Maclin Makes Movies
Since his freshman year in high school, senior Justin Maclin was interested in the filmmaking process. His curiosity was increased as a result of several video projects throughout his past three years at the Academies. This is why Justin thought Brainstorm Digital in New York would be the perfect match as his Senior Experience internship. And it is.
Brainstorm Digital is a company responsible for adding the after effects to movies and television series. Some of their most popular works include Boardwalk Empire, The DaVinci Code and Burn After Reading.
Fortunately for Justin, his mentor Glenn Allen has been more than willing to provide Justin with unique insight on the movie-making industry. A typical day for Justin includes helping the camera crew set up equipment and looking on as the experts use programs like Final Cut Pro, to add effects to the raw film.
"Final Cut Pro is a pretty popular software among students," Justin said. "But the way these guys use it is incredible. I've seen them do things I didn't even know were possible with that program."
Most recently, Justin was invited to join the crew on the live set of a new movie titled, My Cross to Bear. On Friday, January 11, Justin accompanied his mentor to Long Island, New York, where the filming would take place.
The crew filmed three scenes of the movie on Friday, but Justin was most impressed with the third and final scene of the day.
"The first two scenes were filmed outside in the parking garage," Justin explained. "But for the third one, I got to help as we transformed the top floor of an office building into a hospital."
In order to do so, the crew first emptied out one room of all the office furniture. Next, they brought in a hospital bed and medical equipment that you could expect to find in any standard patient's room. And that was it.
When asked about the transformation, Justin responded, "it was actually really simple. All we had to do was swap the furniture in one small room. And the hallway on the top floor could pass for one in a hospital, so in reality, we only made changes to the one room in which we filmed."
My Cross to Bear is about a prosecutor who was abused by his father as a child and one day was forced to prosecute his father. Of course, Justin wasn't allowed to film or edit any of the actually scenes, but he was able to get an inside look at the film industry that most people will never get to see. He is thankful for the opportunities Mr. Allen has presented him with so far and insists that it is all about one's approach.
"My advice to the juniors would be this," Justin said. "If you don't get to do what you want on the first day of internship, don't come back the following week with a negative attitude. Do your assignments and be positive and show the people around you that you really want to learn from them."
This formula worked for Justin, and it created a working environment that has helped him remain optimistic thus far. His experiences with Brainstorm Digital, he said, have only reinforced his plans to pursue a degree in Film Production.
About the Contributor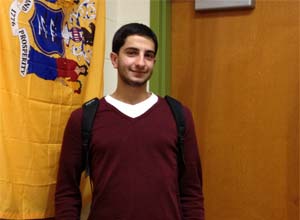 Basel Bataineh, Semester 1 Co-Managing Editor
Although transforming a school newspaper from its traditional form to an online publication is more tedious than exciting, I must admit, it's a cool...