A few days before winter break on Friday, Dec. 14, 2012, a group of about 16 DMAE freshmen and sophomores from the new DMAE IMPACT Club walked to the Grieco Elementary School at the beginning of 9th period to help jumpstart the holidays.
At the elementary school, the high school students paired up with energetic kindergartners, and then settled down at tables to construct gingerbread houses.
"It was a great experience helping the kids put frosting on their gingerbread houses and decorate it with candy," sophomore Nyla Thomas said. "We not only wanted to leave a great memory of a fun experience, but an IMPACT on the hearts of the children."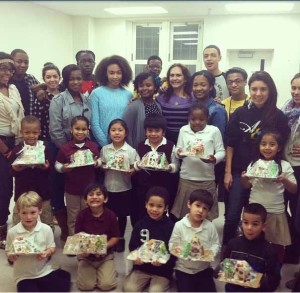 Nyla and sophomore Amanda LaTouche started the club with the help of Mariemma Nieto who agreed to be the advisor. Ms. Nieto felt that making a difference in the Englewood community was an important mission.
To set the mood that day, there was even holiday music in the background. The children's faces lit up while building the gingerbread houses and they enjoyed the attention from high school students. Nyla remembers how the children's personalities were reflected in their gingerbread houses — all creative and unique in their own ways.
"The kindergartners were engaged in the activity" Mrs. Thomas, advisor of Teens and Tots, commented. "I was delighted by the maturity of the high school students in the club. It was amazing to see their enthusiasm with the little kids."
It was the first time some of the elementary school students built a gingerbread house, and it was the first time some of the high school students did, too, making it a lasting memory for them all.
Another reason the IMPACT Club is popular is because it gives students the opportunity to socialize with a positive crowd. The two leaders of the club believe that having the members associated with a group of students who are bright and talented can help them maintain a positive energy, while fulfilling the club's main goal.
"Our mission is to educate the students on the importance of community service and what you can do to impact others in our community," Nyla said. "Amanda and I came up with the idea when we felt that it was really important for students to know about community service."
IMPACT Clubs are located throughout the United States. The Mill Creek High School branch in Hoschton, GA, had its members pack bags of canned goods in the local shelter after school. In Fredonia, NY, the Fredonia High School club members take time during lunch periods to tutor students who need help in any subject as well as students with special needs.
The DMAE IMPACT Club holds fundraisers to make community service events possible. The DMAE campus can definitely count on the IMPACT Club to help make a difference.