Congratulating the Fall Athletes
On Friday, Dec. 7, 2012 athletes, coaches, staff and administrators gathered in the Dizzy Gillespie Auditorium to congratulate the fall athletes for their efforts throughout the season.
"I liked the fact that it was more organized and more people showed up this year," senior Gabriela Galvez said. "It was also good that the coaches kept it short, it made the ceremony more enjoyable."
This year was the first year Vice Principal Joseph Armental put together the ceremony as the Athletic Director. Athletes in the middle school and high school received awards for participation in soccer, tennis, football and cross country. Mr. Armental decided to include awards for the supporting staff that helped throughout the season and the coach's award to thank them for all they do throughout the season.
"Coaches sacrifice a great deal of time and energy to their respective sports and I thought they needed to be recognized," Mr. Armental said. "Coach Harris received the award this year for his leadership, organization and effectiveness in making Dwight Morrow football relevant again in Bergen County."
The award for Coach Harris was not the only special recognition of the night. Cheerleading Coach Adrian Bickham, who announced that she was retiring as coach, also was recognized for her service, ending a chapter in the Dwight Morrow Cheerleading squad history.
While many awards, such as the Most Improved Player award and the Coaches award, were given, the most anticipated awards for the night were the Scholar Athlete awards and the Eagle Award. The Scholar Athlete award was given to senior Luisa Arias and the Eagle Awards were given to junior Emma Peterson and senior Naiquan Thomas.
"I wasn't expecting the award," senior Naiquan Thomas said. "But to get it was an honor and a blessing."
The end of the night was marked by refreshments in the North Cafeteria that included fruits and Buffalo wings.
About the Contributors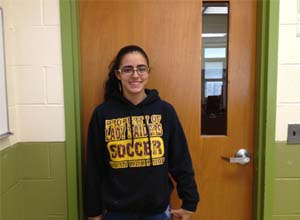 Luisa Arias, Semester 1 Section Editor
Luisa is a senior in the Biomedicine Academy at the Academies. She has worked on the Maroon Tribune staff since the beginning of her junior year. Luisa...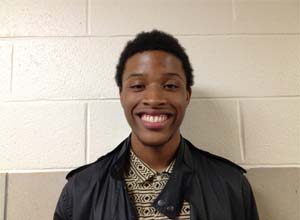 Kyle Simmons, Semester 1 Section Editor
Kyle Simmons is a senior at the Academies and in his second year as sports writer and Section Editor for the Maroon Tribune.  He is seventeen years young...