Keep Your Head Up!
"Keep going! You can do it! One more rep!"
Just like that, the arduous 45-minute workout at the Bootcamp Club was underway.
The Bootcamp Club is a new DMAE club created by junior Kevin Zheng, and advised by Mike Morano.
Kevin wanted to create a club that would invigorate his classmates, and give them the opportunity to get some exercise along the way.
"I started the Bootcamp Club because I have friends who showed interest in working out and getting in shape. Most of them don't have time to work out after school so I saw 9th period on Thursday as an opportunity for them to workout," said Kevin.
The 15 club members get a tough and rewarding workout each week. During the workout, students complete different circuits each week, which are series of intense exercises. The circuit of advanced pushups, partner push-ups and walking pushups, for example, targets muscles throughout the body: biceps, triceps, and abs.
"When Kevin first talked to me about having a Bootcamp Club, I was really interested" junior Sava Radovic explained. "I like playing sports so being a part of the Bootcamp Club would give me the chance to get stronger, quicker, and improve my mentality."
When Kevin first introduced the idea of starting a Bootcamp club to Mr. Morano, he found Kevin's idea rational and decided to help him give it a shot.
"It is inspiring to see students here at DMAE inspired to be a part of this club," Mr. Morano said.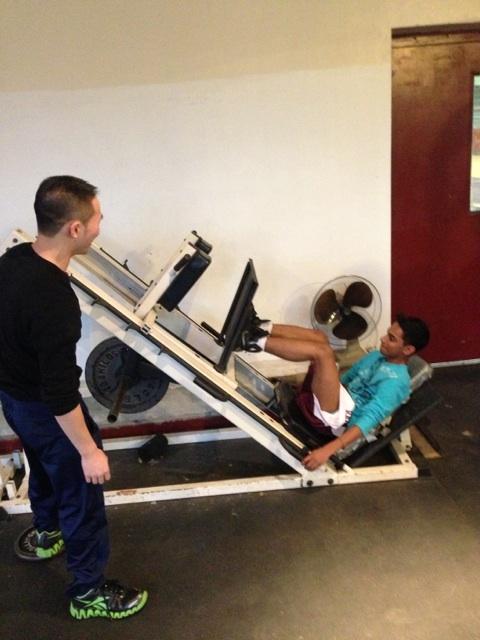 And Kevin could not have chosen a better time to start the club because according to the Center for Disease Control and Prevention, "In 2008, more than one-third of children and adolescents were overweight or obese."
Kevin believes that having students who are "willing and wanting" to take part in the club also see exercise as essential to one's health. He hopes they will work out on other days, too, because it takes more than one day a week of exercise to lessen the risk of developing some of the leading causes of illness and death in the United States.
However, good health was not the only motive behind Kevin's interest in creating the Bootcamp Club. Kevin also wanted to teach students the significance of working hard. A primary goal in starting this club was to show students how to be dedicated to a specific goal and get them to see the benefits of working hard.
"I also started this club was because I wanted to expose these kids to what is it like to work hard to achieve their goals whether it's in the gym or outside in life," Kevin stated.
Kevin's wrestling coach, Coach Foca, put Kevin through "Bootcamps" in the past, which positively impacted his life.
"I thought that the workouts Coach was doing and the messages he was sending throughout the bootcamps were great, so I became an advocate of his work," he said.
Considering that experts recommend adolescents get 30 minutes of exercise at least three times a week, joining the Bootcamp Club could help an individual tackle rising health issues and even teach that individual some life lessons along the way.