Green Dot: Violence Prevention Program
DMAE 1 of 5 High Schools Teaching How to Grow Intolerance for Brutality
In a perfect world, the rich would help the poor, promises would not be broken and love would last. In a perfect world, the strong would protect the weak. DMAE is not a perfect school but it is changing.
The DMAE campus participates in a program that promotes a way for the strong to help the weak through the Green Dot initiative.
"The football players who used to primarily be the ones causing trouble on campus have stopped doing so," said senior Armon Sadler, a football player and a Green Dot member. "And we've also broken up a few fights, which a year ago some of us would have probably instigated or encouraged to continue."
Imagine a map of the United States covered by thousands of red dots. Each red dot on this map represents an act of violence or a choice to tolerate or justify this violence. However, imagine that a green dot is any behavior, choice, word, or attitude that promotes safety and shows intolerance for the violence. This intolerance is what the Green Dot strategy is trying to promote.
Green Dot is a national organization geared towards spreading the idea of anti-violence. It addresses and fosters a safe and respectful community by empowering students to safely intervene in violent situations.
Green Dot was originally focused on colleges but, recently, five high schools in the country were selected to become a part of the organization, and DMAE happens to be one of them. Students and staff were trained in the Green Dot strategy during the summer and began promoting anti-violence throughout the campus by applying the organization's message to real situations.
Currently, four staff members have been trained: Mariam Gerges, a ZONE social worker, Alexis Owusu, a dance instructor, Ms. Carenza, a student assistance counselor, and Liz Corsini, the ZONE Director. Along with the staff members, the entire football team and 25 other students were trained as well. Being part of Green Dot has really altered these players' thoughts and actions.
"Green Dot has been an eye opener for me," said senior Derek Gaddy, a football player and Green Dot member. "I have three women in my house and the fact that one in three women are sexually assaulted at a point in her life is very real to me. I want to change that statistic and make it that no women are ever assaulted."
The organization first made its appearance on the DMAE campus through the efforts of Ms. Corsini. Ms. Corsini is part of the Coalition for S.A.F.E. Communities, an alliance of professionals who address violence in schools and communities. After learning about the Green Dot organization, Ms. Corsini did not hesitate to start promoting it for DMAE.
"I wanted to be able to help create a safe community for students," Ms. Corsini said. "There are a lot of students that want to do the right thing when they see a violent act going on but many of them don't know how to intervene. Green Dot teaches methods on how to safely intervene in a violent situation," she said.
Violence does not only include physical fights, it can also include actions such as stalking, bullying, and verbal abuse. Situations like these occur all the time, and few do anything to stop it.
One way that the ZONE is going to monitor the number of positive actions done by students is with the bulletin boards on the second floor in the North Building and in the Common Area in the South Building. A green dot will be placed on the boards with the student's name and action. Thanks to Green Dot, the number of violent situations seems to have already decreased because the boards are currently full of green dots.
The efforts of students is paying off. Ever since DMAE first started participating in Green Dot, the program has been getting a lot of positive attention from the school community and local media.
"After learning what it was all about, we, the football team, willingly joined and have been working hard in anticipation of the various things we plan to do," Adam said.
DMAE Green Dot members have been interviewed by The Record newspaper and by the NY1 news station. These interviews are only the beginning of the organization's plans to raise awareness of Green Dot. The football team also had participated in a photoshoot and these photos will be used to launch a poster campaign for Green Dot.
The Green Dot organization on the DMAE campus is completely student-led, and members hold meetings regularly in order to plan for campus-wide activities. They are planning to spread their message through public service announcements, poster campaigns, assemblies, booths in the cafeterias and the Common Area, and many other activities.
"Green Dot is an ongoing initiative and we're constantly training new members every day," Ms. Corsini said. "Our ultimate goal is to make every student on campus able to intervene and stop violent situations."
About the Contributors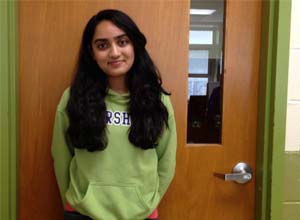 Priya Kabaria, Semester 2 Senior Reporter
Priya is a senior at the Academies and likes to write but did not start writing for the newspaper until she became a junior. She is a Section Editor for...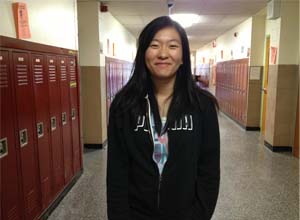 Hyomi Kang, Semester 2 Senior Reporter
Hyomi Kang is a senior at the Biomedicine Academy. She was born in Seoul, Korea and came to the U.S. when she was five-years-old. This is her third year...