[slideshow_deploy id='1267′]
Warm embraces and animated conversations of more than 300 participants filled the halls of the [email protected] on Friday November 23, 2012, for [email protected], a reunion for the students from the past 10 years. This event was not only for alumni from the Class of '06 to the Class of '12 to reunite, but also for former teachers to come back and visit the school. It was a celebration of success and life commensurate with a family reunion.
Class of 2011 graduate Elvis Sokoli said, "This event wasn't limited to just seeing your own grade once again. It was really nice to catch up with old friends who weren't in the same grade as me."
Students and teachers were greeted at the door by senior English teacher and event co-organizer Mindy Rochman and current DMAE seniors. The school's alumni received ID badges that they were "required" to wear for the night. Senior Emily Abreu spent weeks making replica IDs of the ones students currently sport, each with the alumni's graduation picture and a lanyard depicting the academy he/she had been in: Biomedicine, Pre-Engineering, Information Technology, Finance, and Law and Public Safety.
"I was happy to see so many people who have passed through the Academies come back and show their appreciation for the history we have established in this short time," Ms. Rochman said. "People were in shock that I remembered all of their names and the year they graduated."
The first floor hallways were flooded with projects from students since the Academies first opened. Teachers contributed past projects from their students to put on display for alumni to review and reminisce. As some teachers went through their files looking for projects to display, they couldn't believe what they have held onto for 10 years.
"I was going through my projects and could not even believe I kept so much past work from so many years ago!" freshman history teacher event co-organizer Judy Aronson said. "I cannot wait to see the look on the alumni's faces when they look back on the work they did even 10 years ago," she added.
Ms. Aronson was right about alumni's reactions. Former students laughed as they touched, turned pages, and fondly remembered projects they had worked on during their high school years. Some were shocked and some heartened that teachers had kept their work. Jennifer Ali, who graduated in the Class of '07 looked at some of the projects in disbelief.
"I can't believe how well I remember each project and who I worked with for each one," Jennifer Ali from the Class of '07 said. "Let's not forget the sleepless nights from leaving things until the last minute and then rushing to finish it before that period!" she exclaimed.
Projects were not the only part of this event that had past graduates in awe. In the main hallway, a display was put up to honor the students who won the "Academy Way" award in the past.
"Even though that award should have gone to me," Jenn said jokingly, "it is so great to see that these people are still getting recognition for their accomplishments after all these years."
As alumni exploring their old high school, they were surprised by changes, comparing their memory of the surroundings to the current veneer.
"I think I spent a good five minutes amazed by the new electronic lockers," said Class of '07 alumni Kristyn Abreu. "I also remember that when I graduated the hallways were all different colors!"
Display board collages created by senior Kathleen Baltazar dressed the cafeteria and sparked more memories for attendees. Kathleen spent countless hours working on the collages, one for each class of [email protected] graduates. Each one portrayed a different part of the school's campus, and when put next to each other, made an amazing panorama of the DMAE campus. In addition, other students made display boards for each year of Englewood Idol, one for Senior Experience, and one for March Madness with a poster that showed which academy won each year.
"Being able to trace the history of the event and gaining a perspective on how it's changed and grown gives me, and I know everyone who sees them, a lot of satisfaction," said Ms. Aronson.
A slideshow of pictures from the past 10 years created by Class of '10 graduate Alycia Abreu looped in the Common Area. Alumni munched on a mountain of food, including Teriyaki meatballs, mozzarella and green salads, cheese platters and bread, and caught up with former classmates and teachers. And new memorabilia was created that night. Each graduated class had a time slot to take a class picture.
"The large number of AE alumni who came to the celebration is an awesome testament to their affection for the school and the profound impact of the memories they made along the way," [email protected] Supervisor Gordana Picinich said.
[email protected] was not just about the past 10 grades getting together and sharing old memories. It was even more than a celebration or reunion. [email protected] marked 10 years that the [email protected] has been standing. The [email protected] has faced a struggle of identity on both state and local levels for all of its years. Even now, students are still working on merely trying to get a sign for the [email protected]. When the school first started, many people were not sure if it would make it past its first year. But it has, and the [email protected] is still standing tall.
"I believe the [email protected] event was important to show the current students where the school came from and to show the former students where the school has gone," Ms. Rochman said. "In the end, the history of the school is important to the future of the school."
About the Contributor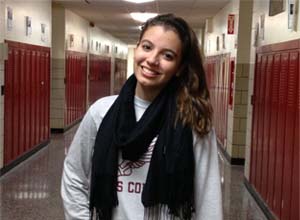 Emily Abreu, Semester 1 Editor
Even though it is her fourth year on the newspaper staff, Emily knows how much hard work it takes to run the paper. As a leader in many things, including...