Winning Season Meant to Be
Fate has played a role in Coach Barry Harris' life and he has come to love the sport of football because of what it has given him. Twice in his life outside events made it possible for him to advance in the world of football. The first time was the chance to play pro ball as an Oakland Raider; the second, the chance to lead the Dwight Morrow Raiders as head coach and, as it turns out, make the team competitive as its 6-4 record this year attests. Leading up to it all was a readiness created in his youth.
Coach believes that the virtues and principles he was taught at a young age from playing football molded him to be a very influential leader. Because of his experience, Coach Harris decided he wanted to inspire young males with the lessons he was taught and hopefully make them better people.
Coach Harris played football when he attended Dwight Morrow High School in the early 1980s and went on to become a player on the roster of the Oakland Raiders for the 1986-1987 lockout season. The lockout season was the result of the NFL Players strike and replacement players were needed so the NFL could commence its regular season schedule. Even though his NFL experience was by chance, Coach Harris still embraced the experience, knowing that it would help build his future. And it did.
First, he coached at Janis Dismus Middle School. His love for the sport of football transferred to winning four titles in a row with the Junior Raiders before becoming assistant coach for the High School's team.
As an alumnus of Dwight Morrow, he felt it was a duty to give back to his high school. But it wasn't until this year that fate came into play and he became the head Coach.
"The opportunity came and I felt it was the time for a change in the team's winning habits," Coach Harris said. He was confident in his abilities to coach the football team effectively but saddened by the loss of other athletic leaders on campus.
His opportunity to become the head coach was due to the many changes in the school district this year, including the layoff of Athletic Director Yvonne Sheard and losing other athletic officials.
"With the absence of Ms. Sheard it is rough, but we know what we still have to do," Coach Harris said.
Despite the jump from assistant coach to head coach, Coach Harris remains humble and understands that without the district changes and Ms. Sheard's layoff, he would not be in the position.
"We understand the opportunities she created for us and we are deeply in debt to her," Coach said. "The only thing we can do to repay her is to simply win."
As a result, the Dwight Morrow Maroon Raiders played with urgency and a drive this year that had not been present in a while.
The team practiced three to four hours, five days a week and often on weekends. Players ran "suicides" until their legs felt like they would crumble beneath them. The team practiced plays until they were perfect. Coach would not let them think about taking a breather until every play was executed correctly.
"They must prepare themselves mentally and physically in order to be successful student athletes," Coach Harris said.
Coach also created a sports study hall to help players maintain their academics. He stressed the importance of academics to each and every player and said that, "only once your school business has been handled, can you play." He expected a solid GPA with the minimum of 2.5.
Coach Barry credits the team's improvement to dedication and to taking one game at a time.
"Our goal was to win every game we played," he said.
The revamped Maroon Raiders has rejuvenated the community as well.
"The school is behind the team. Everyone has been supportive so we can do nothing, but win for them," Coach Harris said.
It is clear that Coach Harris unselfishly takes little credit for the success of the team. He visualizes himself as a different type of coach, one who urges the players to become leaders as he has become. Coach Barry believes that his teachings will take players far in their futures.
With a final record of 6-4 and Coach Harris at the helm, the Maroon Raiders improved dramatically from last year's record. For next year, they plan to be in the play offs, instead of the consolation game
About the Contributor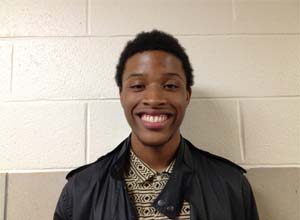 Kyle Simmons, Semester 1 Section Editor
Kyle Simmons is a senior at the Academies and in his second year as sports writer and Section Editor for the Maroon Tribune.  He is seventeen years young...