Cross Country Intensity
"There is an indescribable intensity as your muscles tighten. Blood pumps through your body. When you hear that gunshot, you're gone."
Junior Desiree Peterson describes the beginning of every cross-country race this way. She has left a lasting impression on Dwight Morrow's cross-country team.
The Maroon Raiders Cross Country team has been one of the more highlighted teams for
Englewood fall sports. Due to dynamic runners such as Desiree Peterson, who is captain, the team has been very successful. Credit also goes to Coach Williams and his daughter, Coach Rachel, who know the art of motivation.
"We stress the importance of practicing," Coach Williams said. "However, many of our runners are very motivated and determined on their own. To be good, you need to run all year and they understand this," Coach Williams said.
Coach Williams believes in all of his runners and they believe in themselves. Desiree is a firm believer that practice can achieve perfection. She pushes herself at each meet and the results are there. She has shown improvement as she has beat her previous personal best by approximately 0.06 milliseconds. Desiree takes pride in her success but does not intend on stopping.
"Running the 5K isn't as easy as it sounds," Desiree jokes. Despite the feats she accomplished in cross country, she continues to humble herself.
Coach Williams is extremely proud of Desiree as he continues to watch her develop as a runner and an individual.
"Desiree broke her own record and the school record this season. Her determination is a product of the team's motivation and determination as a whole," Coach Williams said.
Desiree gives her team a lot of credit and feels she would not be in this position without them. The 2012 cross-country team has set the standard for years to come.
"We are more than a team; we are a family. We remind one another of the support each and everyone of us has behind us. This team is respected because we respect ourselves," Desiree said.
With the cross-country season slowing to a stop, team members will continue to better themselves during the off-season. Desiree understands how the off-season can make her team better.
"When the season ends, the season begins. Take no days off and don't go home early.
Work beyond your capacity," she advised.
Coach Williams certainly expects Desiree and the other runners to continue their training during the off-season. The expectations for next season are very high, as the team will only be losing one senior runner Kathleen Baltazar.
Desiree intends on breaking her record next season and furthering her success along with her teammates, "Why settle if you can break your record again? I want our team to come home with a trophy," Desiree said.
Coach Williams hopes to be as pleased next season as he was this year. He will accept nothing but everyone's best effort because he knows that they are capable of accomplishing the goals.
"Every member of our team in the last meet had a personal best," Coach
Williams said. "That really shows what this team is all about. They are truly dedicated to their crafts."
Desiree in particular wants to continue running after high school and hopes that her success will continue in whatever school she may represent.
"I will always do my best because when you lose, it hurts, not because you lost, but because you know you could have done better," Desiree said.
About the Contributor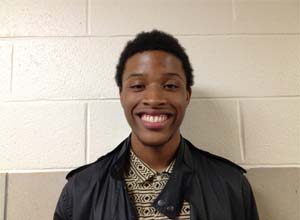 Kyle Simmons, Semester 1 Section Editor
Kyle Simmons is a senior at the Academies and in his second year as sports writer and Section Editor for the Maroon Tribune.  He is seventeen years young...