Fair at Fairleigh
Some seniors might have changed their entire career plan after attending the Bergen County College Fair on Thursday, Sept. 20, 2012. The event was held at Farleigh Dickinson University in Teaneck, NJ, where over 220 colleges arrived from all over the nation. There were representatives from smaller schools as well as popular and Ivy League universities.
The Dwight Morrow High School Guidance Department encouraged seniors to attend but underclassmen were invited as well.
Guidance counselor Venus Rose said, "It is important to attend to get an idea of what you want."
Many students from DMAE attended the college fair, which for some opened their eyes to colleges they had never considered applying to.
According to senior Rebecca Jaffe, "I was already having trouble narrowing down the colleges I was going to apply to, and at the fair, I found new programs that fit my interests."
The event began promptly at 6:00 p.m., but students and their families were congregating by the door at least 15 minutes prior. Over 300 people arrived including prospective students, their families and even some teachers. The colleges were organized alphabetically making it easy for students to locate the school of their dreams. Each college had its respective station where a representative from the state of NJ would discuss the excellent features of the school.
"It was important for me to make a good first impression on each person," Rebecca said. "These were the people who would decide if I would attend the schools I want to go to."
For some students, the college fair was about exploring opportunities outside of their comfort zone. By learning about other schools, they were able to find places to apply to in addition to their original list. For others, this was not their first college fair. However, there was a major difference in attending one as a junior versus a senior.
"As a junior, I didn't pay as much attention to college. But now, when deadlines are placed before you, attending one of these really helps to narrow down your choices," Rebecca concluded.
Senior Amina Wangongo advised underclassmen to think about college as soon as possible to avoid senior year anxiety.
"Start your college search as early as possible so that by the time senior year comes around, you won't be stressed trying to find colleges that you like and want to apply to," she said. The College Fair is open to all and will be held again next year.
About the Contributor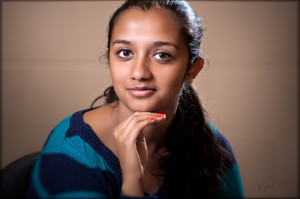 Aneeka Ayyar, Co-Editor
Aneeka, a senior in the Biomedicine Academy, is in her third year as part of the Maroon Tribune staff. Her love for newswriting is clear through her position...