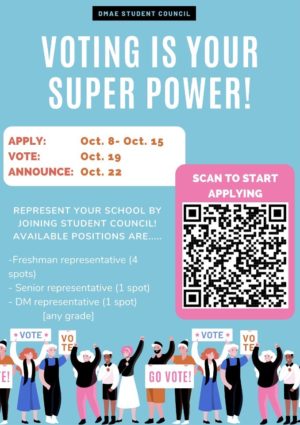 Student Council Elections were held in October at DMHS for class representatives and a Board of Education (BOE) representative. "Voting is Your Superpower" messages were posted by the Student Council and voting occurred on October 19, 2021, during homeroom. Results were announced the following week with thanks and enthusiasm.
"This year's election seemed to spark more interest than in year's past and I feel like the student council's momentum has continued since our election. The student body knows we're there for them and what our role is on campus," faculty advisor Danielle O'Shea said.
Four spots were open for freshmen class representatives, one spot for the senior class representative, and another single spot for the DM BOE representative, which was open to any grade. The positions of BOE representatives are relatively new. Members in these positions closely train with the superintendent, BOE members, and attorney. BOE representatives are also allowed spots on the monthly BOE meetings to ensure a student voice is heard. Although this representative is not allowed to vote, they bring DMHS students' perspectives to the table. 
The following students were elected. The freshman class representatives are Chloe Kwon, Nikhil Mani, Christian Lim, and Ashley Kim, the senior class representative position was taken by Julie Jang and the DM representative to the BOE is sophomore Betsy Diaz. No one won by a landslide but all elected members had a solid majority vote. Unfortunately, only 480 students voted which is less than half of the DMHS student population. 
"I hope that our council can help deliver the improvements students really need in their school day," noted senior, and Student Council Co-President, Jerelle Daag. "The newly elected representatives and officers are always listening and delivering genuine concerns they hear from peers to discuss a course of action. This gives me hope that progress is possible and already in motion."
The Student Council holds itself to a high standard and wants its members to reflect it. Candidates need to maintain a minimum GPA of 2.5 or higher for class representatives, and a minimum GPA of 2.7 for executive officer positions. Candidates submitted an application explaining why they felt they deserved the role, their transcript and a recommendation from a teacher. Student Council meetings are every Tuesday from 3-4 pm. For more information check out the DMHS Student Council Instagram @dmaestudentcouncil. Congrats to all those who were elected.