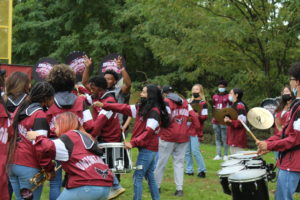 With the second month of the school year, many questions remained about the fate of a Homecoming. The unfortunate devastation of Winton White Stadium from Hurricane Ida left Dwight Morrow High School without the ability to hold home games. Students wondered, "Can we have a Homecoming when we don't have home games?" 
Dwight Morrow High School's Student Council, along with the dedicated help of Athletic Director Joseph Armental, answered that question when they announced on October 13, 2021, the planning of Spirit Week and a Pep Rally. A Homecoming of sorts!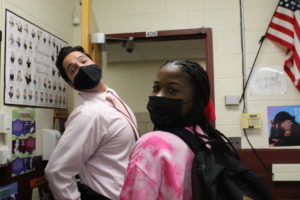 Thus, Spirit Week took place during the week of October 18 with themed days such as, "Twisted Tuesday" and "Wednesdays We Wear Pink," and students voted for homecoming court royalty including senior Queen and King. To cap off the week, the Student Council hosted a school-wide Pep Rally. Students were thrilled to enjoy an afternoon of celebration that included silly games and impromptu performances.
"Raider Nation did such a tremendous job in showing off their school spirit throughout the entirety of the week. To have our Spirit Week capped off with the Pep Rally was the icing on the cake for me. Needless to say I thought the week and especially the Pep Rally were a huge success," commented Mr. Armental with characteristic gusto.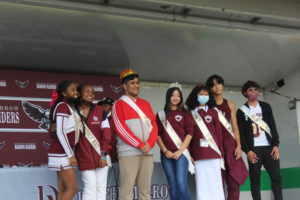 The Pep Rally was held on the soccer field, featuring an upgraded stage and even our school mascot, an Eagle.  As the student body sauntered in grade by grade beginning with 9th, the school's marching band filled the silence playing their various stand songs as if it were a Homecoming game. 
The school celebrated senior athletes and crowned the homecoming court. Seniors Tsean Mattoo and Flora Cho were crowned as Homecoming King and Queen. Donuts on a String, a Hula Hoop Challenge and an in-the-moment dance battle between junior Elijah Martin and senior Herbert Brown represented the fun of the day.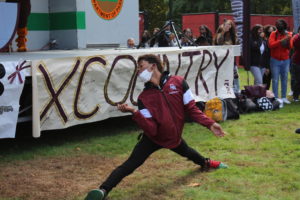 "My favorite moment at the Pep Rally was the homecoming announcements because of its build of excitement and hype. It was great seeing my friends win and the crowd going crazy!" sophomore Ray Guevarra said.
Despite the loss of its stadium for this year, the Dwight Morrow High School community really came together to build up and show their Raider pride.