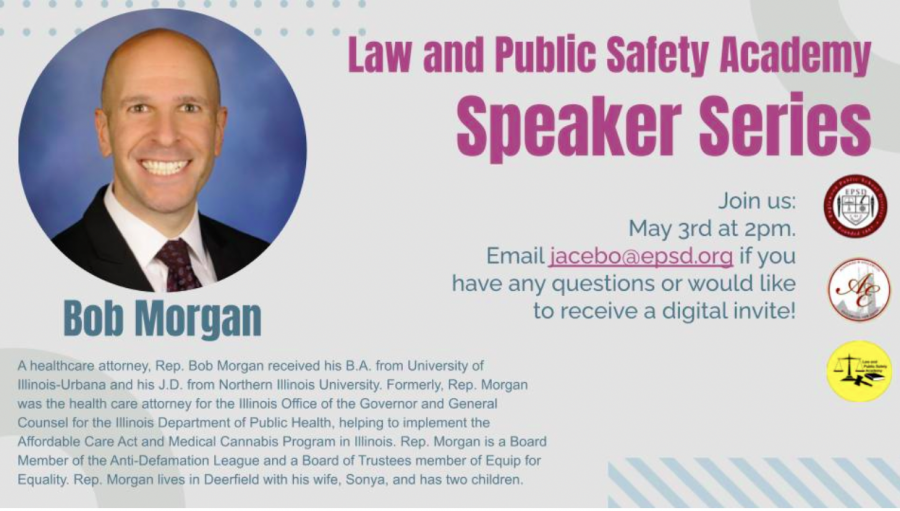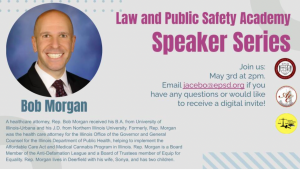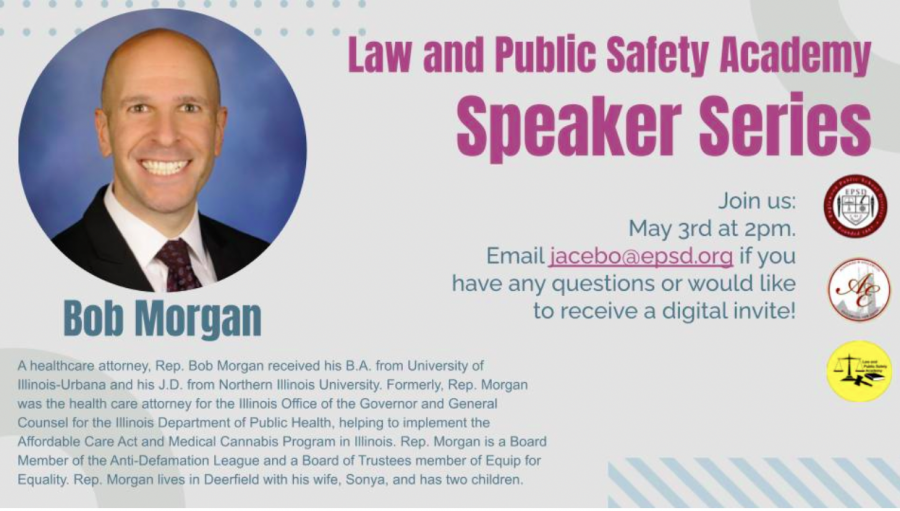 On Monday, May 10, 2021, a member of the Illinois House of Representatives, Bob Morgan, visited the LPS Speaker Series. Representative Morgan has a background as a healthcare attorney for his state of Illinois.
"Rep. Morgan serves as a good example of someone who from an early age demonstrated a strong passion for serving his community and for shedding light on important issues," LPS Program Manager Janice Acebo said. "That interest dictated his next steps to college and law school, and later his specialty in healthcare medicine. The need for more access to and information about healthcare led him to enter the world of politics in a meaningful way," she added.
Rep. Morgan shared with students some insight into his academic and professional experiences over the years. He talked about how he really enjoyed high school and college even though he didn't know what he wanted to do at the time and that he would have never guessed he would end up where he is today. In fact, the only thing he was certain of when he was a student was his commitment to civil rights such as multiculturalism, disability and LGBTQ+ rights. Therefore, he always thought he would become a civil rights lawyer. 
Instead, he became a healthcare attorney when he ended up working at a small healthcare consulting firm after law school. But, he still considers himself to be very fortunate and still champions any chance to promote equality.
"I learned that Rep. Morgan is really passionate about healthcare and the wellbeing of the people he represents," freshman Evelyn Tamayo said.
Rep. Morgan has been especially committed to helping underprivileged groups of people get vaccinated amidst the ongoing COVID-19 pandemic. He believes the country is moving in the right direction. 
"The goal of this speaker series has always been to give students access to various professionals in law who provide a sense of what possibilities there are for the future," Ms. Acebo commented. "I want students to see that their passions in service and law should be pursued, even if they are unsure where exactly it will lead them."
Dedicated and passionate people like Rep. Morgan continue to motivate DMAE students who are interested in law, public safety, and related fields.
A final speaker, Superior Court Judge Jaclyn Medina, is set to be the last LPS speaker of the school year in June, All students are welcome to join the meeting.