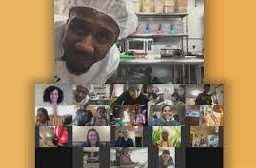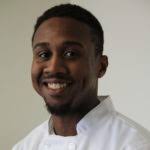 Passionate, energetic, and wholesome are rare words to describe a human being. Yet, Aaron Morrisey manages to encapsulate all of these qualities as a young chef who has served Englewood youths through several programs. 
Raised through the Englewood Public school district and a graduate of Dwight Morrow High School class of 2009, Aaron holds a passion for food and a special place in the hearts of his Englewood teachers. 
"As a middle schooler Aaron was always vibrant, willing to learn and try new things. He was always personable and friendly, he was smart and had a sense of humor," science teacher Jackie Goolsarran reminisced fondly. "His classmates and teachers loved him because of his big personality," she added
During his senior year in high school, Aaron interned at Palmer's Crossing in Tenafly for a year. Afterward, he attended Johnson & Wales University where he got his degree in hospitality and hotel management. From there, Aaron got featured in various cooking shows like "Chopped" and "The Rachael Ray Show." Despite all of this success, Aaron did not forget about his community. As a result, he started to teach kids how to cook at the Bergen Family Center and became known as Chef Morrisey.
"I loved giving back," he commented. "It is something I always wanted to do, to be a mentor and role model in my community for the youth."
 Another way Aaron has afforded giving back is through an Englewood middle school program called the Culinary Cadets Program.
When war veteran and executive chef Dion Cucutta Jr. could no longer run the program, Chef Morrisey stepped in and took over the Culinary Cadets Program at the Janis E. Dismus Middle School. He began with a mere 12 teens, which then grew to over 60 teens. Unfortunately, the COVID-19 pandemic struck, and the outlook was grim for Chef Morrisey and his students. However, regardless of the troubling times, he continued to build his community and instill confidence within his students virtually.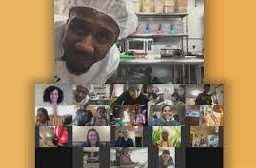 "I still wanted to give them inspiration and confidence at a young age because when you get older there are some soul crushers out there," Aaron said.
With youths as his primary inspiration, Chef Morrisey organized the QuaranTeen Kitchen Program in response to the pandemic. He composed kits of ingredients, which he gave to his students, and in turn, he guided them to construct meals. His actions were highlighted on "The Rachael Ray Show" where he was awarded a $10,000 Instacart gift card along with kits for each member of the QuaranTeen Kitchen program. Through Aaron's efforts in keeping the program alive within a global pandemic, he highlighted the importance of confidence and community and continues to connect with his students.
"I was on this side 10 years ago: talking to somebody, asking them questions, doing an article. Now I'm the one getting written up; the whole circle is just really amazing," Chef Morrisey concluded.
To see Chef Morrisey in action you can watch his video. https://www.youtube.com/watch?v=KNAGUpUzK9U