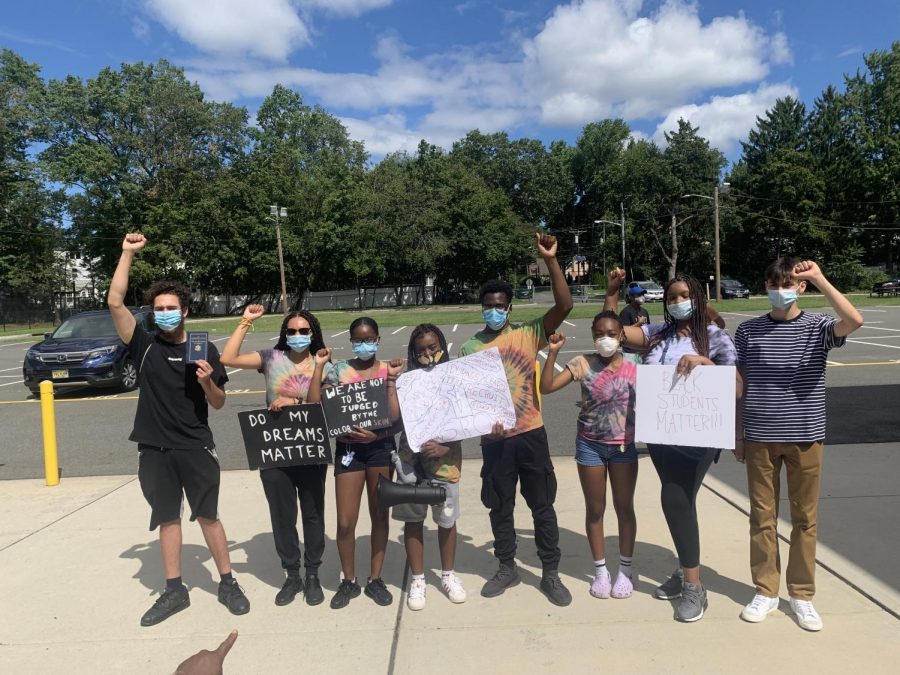 Founded this past August by senior Christopher Butcher and junior Shelby Rush, Co-Presidents, the Black Student Union of Englewood (BSU) is a student-led organization dedicated to advocating and promoting Black excellence across the DMAE campus and within the Englewood community. The organization strives to make DMAE a more welcoming space for all students. 
"The educational disparities that Black students in my community suffer became apparent to me, and I decided to take action by founding the Black Student Union of Englewood," Co-President Christopher Butcher said. "In addition, I wanted to start this Union to form solidarity among Black students in the Englewood Public School District," he continued.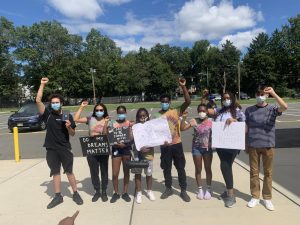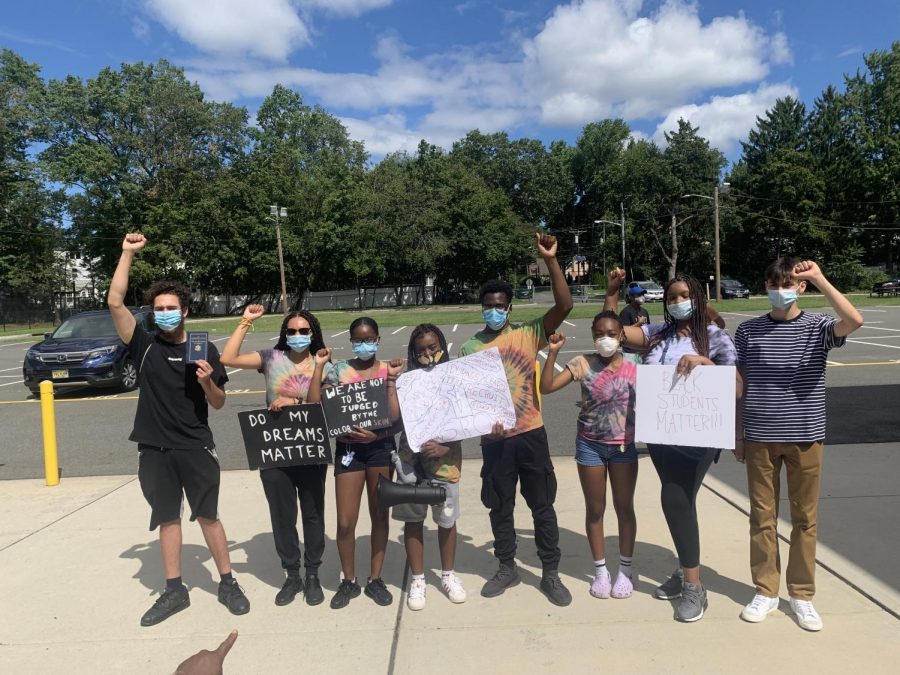 The BSU began its efforts in August by organizing a protest to address what Christopher called "the systemic racism and implicit bias on the DMAE campus and within the Englewood Public School District."  The protest was held on August 1, 2020,  from 10 a.m. to 12 p.m. 
"We started at the monument and marched up to the high school where we gave our speeches and spoke to board of education members and community leaders in the senior parking lot," Christopher said.
Since then, the BSU has been very active throughout these past few months in its efforts to advocate for racial justice and establish the group all with the help of adviser Martine Marcellus who is passionate about the group.
"The students of the BSU are truly the future of social justice at DMAE and the town of Englewood. They are highly motivated and focused on the implicit bias that impacts student achievement on campus," Ms. Marcellus explained.
She also noted that the BSU student-led discussions and other outreach is closing the achievement gap and boosting excellence in the DMAE community.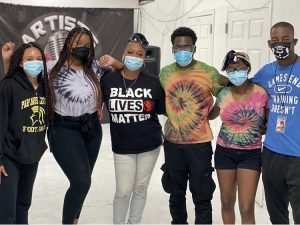 "The BSU has expanded opportunities to Black students on campus," Christopher explained. "We offer tutoring in many academic subjects and provide unofficial academic advising. We have hosted guest speakers from Harvard, Columbia, and the University of Pennsylvania who have assisted students with the college admissions process. Additionally, we have offered leadership opportunities through the NAACP Youth and College Division, the Zone's Racial Justice Institute, and the "Be All You" program developed by alumni Ryan Pruitt," he said.
Another way the BSU has been active is by hosting weekly discussions with community leaders and school administrators on Zoom. One notable conversation was with Sanetta Ponton, a Harvard and Columbia graduate who is active in the Englewood community and who works with the Zone's Racial Justice Institute.
"When we met with Sanetta we discussed progressive policy changes that could be introduced at DMAE, such as additional bias training for all staff members or a required training course for all freshmen on racial justice issues such as systems of oppression and stereotype threat," Christopher explained.
These open discussions are valued by both speakers and students, and publicized on social media in hopes of gaining more attention.
"My hope is that we can keep up the good work. I look forward to our open discussions so we can interact with people who are not just members of BSU," said senior Lesrene Browne who is Vice President of the BSU.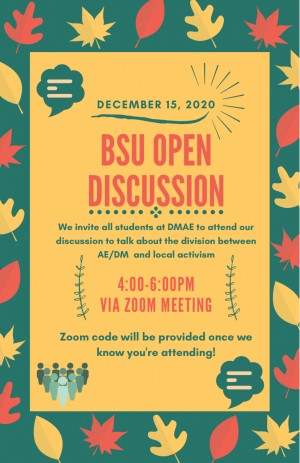 BSU plans to host meeting to create conversations around major sociopolitical events of this past year. In addition, BSU hopes to continue to spread awareness of their values and goals to students and community members.
"We will be hosting informative meetings where we will discuss racial injustice on both a local and societal level. We want to have those uncomfortable conversations so that we can help others learn and truly foster an inclusive environment on campus," Christopher concluded.