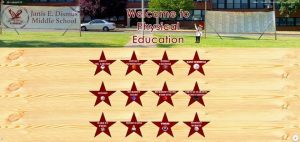 Who would have ever thought gym class would one day be conducted through a computer screen? JDMS physical education teacher John LaRusso certainly never expected it, but he has risen to the occasion with unique lesson plans, interactive activities, and fun games to keep his students physically active during these uncertain times. Mr. LaRusso spent the summer developing lesson plans and workouts for students so that he was prepared to face his most unusual year in teaching. Through the use of Microsoft Teams, Google Slides, and even creating gifs to demonstrate exercises, he developed lesson plans to effectively engage his students by appealing to their interests. 
"I try to make the class as interactive as possible by using lessons the students would find interesting and relatable. One of the days we went on a Pokemon challenge where we had to catch them all. We also did a bitmoji challenge based on a game from Wild n Out," Mr. LaRusso explained.
His own students recognize his efforts to make the class appealing. 
"Mr. La Russo is doing a great job teaching us. He is always positive about everything and very helpful when we have any technical problems. He also does fun activities instead of just doing normal exercises," eighth-grade student Sarah Gomez said.
If virtual learning continues, Mr. LaRusso is already one step ahead with his lesson plans.
"If we did a soccer unit, we could do a "This or That" quiz where the students have to do the exercise depending on what they think is the correct answer. This would ensure that students are still active throughout and learning the knowledge required of the sport," Mr. LaRusso said.
The system of virtual learning has not been an easy transition for many students, so the presence of physical education plays a critical role in keeping students mentally and physically healthy. 
"I personally believe PE is the most important class during this pandemic. Students have a chance to be active and clear their heads throughout the lessons," Mr. LaRusso concluded. 
Mr. LaRusso DMHS Girls Soccer Team coach and has also earned recognition for building sportsmanship with the players for the 2020 season.