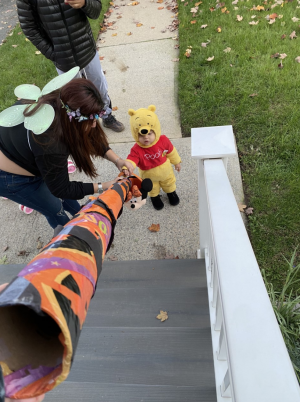 Celebrating Halloween while social distancing during a pandemic can be more stressful than enjoyable, but what if there was a way to still enjoy the spooky holiday while still keeping distance? 
On Saturday, Oct. 31, 2020, Red Cross members and adviser Jackie Goolsarran discovered a unique way to give out candy to trick-or-treaters this year while social distancing.
"So in years past we would go to Grieco school and do Halloween Safety Tips with the after-school program," Ms. Goolsarran stated. "Our members would talk to small groups of kids and go over many important Halloween safety tips," she added.
But this year? Students decorated tubes and took them to senior Valeria Gallego's house to slide bags filled with candy and Covid-19 precautions down the tubes to trick or treaters. Co-presidents Kiana Ong and Sienna Tu along with three other volunteers took part in this event. 
"Some Red Cross club members met at the school a few days before Halloween to decorate the tubes we used to give out the candy, and to package up all the candy,"  senior Marilyn Corona explained.
Despite not getting many trick or treaters, the students still managed to spread joy throughout the community while following the rules of social distancing. 
"Although we may not do this idea for other holidays since we won't be handing things out like on Halloween, we have some other great ideas that will benefit the community!" senior Sienna Tu noted.