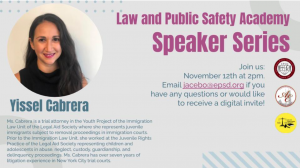 On November 12, 2020, Yissel Cabrera appeared at the monthly LPS speaker series as a guest speaker. Ms. Cabrera is an attorney in the Youth Project of the Immigration Law Unit of the Legal Aid Society, where she represents juvenile immigrants subject to removal proceedings in immigration courts.
"Ms. Cabrera works with a very vulnerable group of young people who have come to this country seeking asylum," LPS Program Manager Janice Acebo commented. "Ms. Cabrera's commitment to her clients, the immigrant community, and to her greater community is a true inspiration that I was so happy to share with my students," she added.
Ms. Cabrera believes that her experiences as an immigrant have shaped her life and her career because they have allowed her to personally connect with her clients.
"Having the ability to meet with a successful female litigation attorney is inspirational," senior Aiyannah Lewis shared. "Another thing that I liked about meeting with Ms. Cabrera was hearing her personal experiences and how it shaped her to become the woman she is today."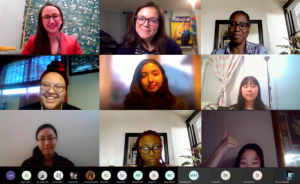 Ms. Cabrera also gave advice to students on how to successfully navigate through high school, college, and law school, both
academically and financially. She listed various scholarships that students can apply for in college and in law school.
"If I go into a field of law in the future, I will be reminded of Ms. Cabrera's advice so I can use them in my own career path," freshman Lois Kim said.