Bright Future for DMAE's Cross Country
The 2019 Cross Country season for Dwight Morrow High School started in September at a meet in Darlington County Park with just 11 members. However, by the time they competed in the Big North event in October, the team had 19 active members including freshman Gavin Lam who is already making his mark.
The team competed in the Big North League-Patriot Division, led by varsity captain and veteran, senior Moussa Myrtil. Other returning players included senior David Gutierrez, juniors Adrianne Garcia and Katie Sudol, and sophomore June-Soe Lee.
June-Soe Lee was proud to be on the team again.
"We had an amazing team and we had great chemistry with each other. We also had great freshmen that hold a lot of potential for next year," June-Soe said.
Gavin and Elif not only boosted the team, they quickly got used to medaling on a weekly basis. Some awards included medals from top track meets in Bergen County, like the Doc Braver Invitational in which Gavin Lam was medaled.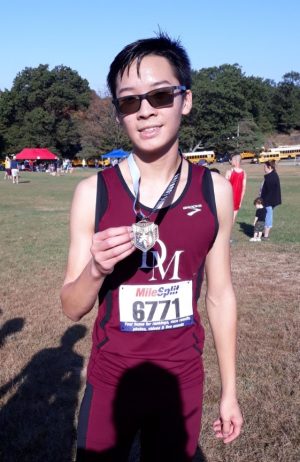 "Members Elif Ozedmir and Moussa Myrtil received Big North Honorable Mention for their contribution to the team's overall success," explained Cross Country head coach Lisa Oden. 
Despite the vigorous training, and never-ending soreness, members of the team admit to having truly enjoyed their time as a Cross Country members, and being proud to have formed a family-like bond. 
"It was the friendships and the people, that I wouldn't have met otherwise, that mattered the most," said June-Soe Lee. 
A majority of Cross Country members continue in winter track, also coached by Ms. Oden, because of her positive attitude and comprehensive training.