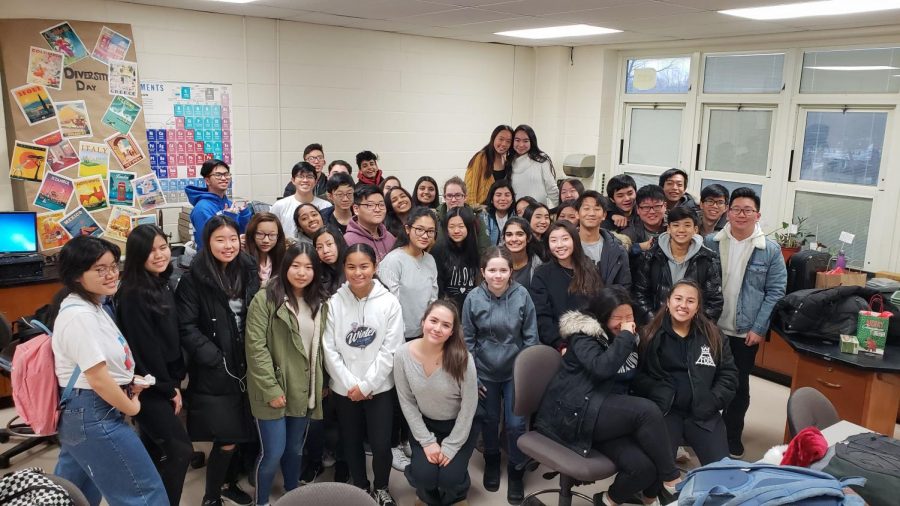 With the motive to "beautify" the halls of DMAE, the Red Cross Club has created a presence all over campus in addition to fundraising for the global organization and participating in community service activities. Red Cross Club is the largest and most active club at DMAE with close over 40 members and ongoing monthly events. The club is advised by Jackie Goolsarran.
Fundraising
Among the Red Cross Club fundraising events is the Teachers' Breakfast, held twice a year usually before a holiday break when teachers are especially busy. This year, the first Teachers' Breakfast was held Thursday, Dec. 20, 2018.
"I've been part of Red Cross since freshman year and the Teachers' Breakfast has been a longstanding tradition. I feel that the breakfast is something nice to do for our school's teachers and staff ," junior and co-president April Yoo stated.
Another way the DMAE Red Cross Club raises money is through a Snack Shop in Ms. Goolsarran's room. The shop offers snacks for after school such as mini oreos, chips, and various candies and chocolates.
"We made the snack shop in hopes of getting word out about the DMAE Red Cross Club, and so far, I think it's safe to say that the snack shop did exactly that. There are many people who joined the club after the shop started." sophomore and club treasurer Rachel Park said.
Community Service
In addition to raising money for the national organization, members of the Red Cross Club have participated in community service work. This year the club has already participated in five events, including volunteering at the Paramus Veterans Home, conducting a Toy Drive, starting The Flower Project, helping out at DMAE's own Englewood Idol event, and bringing back its KindaCaught kindness campaign.
For the Toy Drive held for the holidays, club members collected toys from students, teachers, and staff to donate. The club worked with the Englewood Chamber of Commerce, Fire Department, and Police Department on this activity to pack and distribute the toys.
The Red Cross Club started The Flower Project, the purpose of which is to make feminine products readily available to female students in school. Teachers who agree to provide these products are identified with a flower sticker on their doors to indicate their help.
"It is very useful because female students can just ask their teacher for feminine supplies instead of having to go to the nurse or asking a friend. I think this is a beautiful thing to do for the young women in the school," sophomore Angelica Muñoz stated.
The club has also brought back its KindaCaught Campaign, which recognizes significant acts of kindness on campus that otherwise may not be recognized. Students who are "kindacaught" are showcased on social media and a bulletin board in the school for their admirable behavior.
"We want to celebrate these students and hopefully remind all of our students of what they learned in their primary years of education about being kind," Ms. Goolsarran explained.
The Red Cross Club continues to spread positivity with volunteer work and aid to others who need the help. Members of Red Cross also sprinkle positivity at DMAE to "beautify" the campus and the school community.