DMAE's A Cappella Group Wins
3rd in Quarter-Final Competition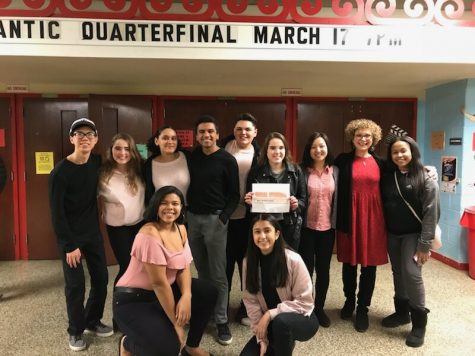 On March 17, 2018, DMAE's vocal ensemble, known as "Vocal Synergy,"  traveled to Cherry Hill, NJ, to participate in the International Championship of High School A Cappella (ICHSA) Mid-Atlantic Quarter-Finals. Six other student groups from around New Jersey and New York competed for the top three spots to move on to the Mid-Atlantic Semi-Finals.
"
Getting to the semi-finals during the first year of competing is unbelievable."
— Ms. Meltzer
During the competition, Vocal Synergy sang a medley of Rock and Pop music, all a cappella or without instrumentation. It was the first time DMAE's a cappella group competed and they placed third in quarter-finals.
"Getting to the semi-finals during the first year of competing is unbelievable," said music teacher and a cappella group coordinator Sandra Meltzer. "Next year we may get to finals and win the whole thing!"
The following week at the ICHSA Mid-Atlantic Semifinals, the group was unable to place. However,  Vocal Synergy was commended for its talents and ability to captivate the audience by showing emotion in their singing. The group has 10 singers: seniors Kyle Castillo,  Oscar Castro, Diondra Curtis, Gisselly Peralta and Sandra Zapata; juniors Genesis Cappelan, Jessica Lee, Veronica Papianni, and Zoe Papianni; and sophomore Sean Park.
A special note was given to Genesis Capellan for "Best Soloist" at the Semi-Finals competition.
"There is no denying that our school is full of talent," Genesis said. "Overall, it was super fun. I think our school should do this more often."
Ms. Meltzer and the a cappella group are committed to continuing involvement in ICHSA competitions, especially after Vocal Synergy had such an outstanding first year.
About the Contributor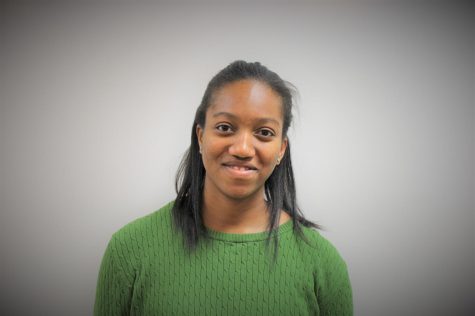 Courtnie Beckford, Senior Staff Reporter
Courtnie Beckford, who is currently a senior in the Biomedicine Academy, is a fourth year writer for The Maroon Tribune. She loves to write about school...