Class of '22 Induction Night
"
I hope this class enjoys themselves, excels, and gets the most out of the academies as they can"
— Roslyn Powell, the Law and Public Safety Academy program manager.
On Wednesday, June 6, 2018, Superintendent Robert Kravitz and the Englewood Board of Education invited inductees and their parents to the DMAE campus for the first time to welcome them into the program. The event opened at 6 p.m. in the Dizzy Gillespie Auditorium and was full of proud parents and students.
The upcoming students and their families were met by opening greetings from principal Billy Bowie and speeches from 2018 Valedictorian Alexandra Dachenko and Pre-Engineering senior Kyle Castillo.
"It was incredible to see the class of '22. I remember being in the audience during my own induction, and thinking about wanting to be on the stage, and then I got to do it," Kyle said.
After the speeches, the induction ceremony began with Dr. Bowie introducing the five academy program managers who formally induct new members into their respective academy.
"I'm excited to introduce a new group of minds to what we do here. Being an educator is important because we get to influence and mold the minds of the future," Dr. Bowie said to the new inductees. "Tonight is about us welcoming the new students into our community and them starting their journey to becoming young adults."
After the inductions and remarks, the inductees were directed to individual academy rooms while parents went to the North Cafeteria for refreshments.
"I'm looking forward to March Madness," upcoming freshman Jadyn Lewis said. "I want Law to win three years in a row!"
The night of the induction ceremony came to a close as the class of 22 reunited with their parents. There was an exciting undertone to the night as introductions and budding friendships were made that could last the next four years or longer. The future students got a taste of what is to come and left pondering the challenges ahead of them.
"I hope this class enjoys themselves, excels, and gets the most out of the academies as they can" said Roslyn Powell, who is the Law and Public Safety Academy program manager.
About the Contributor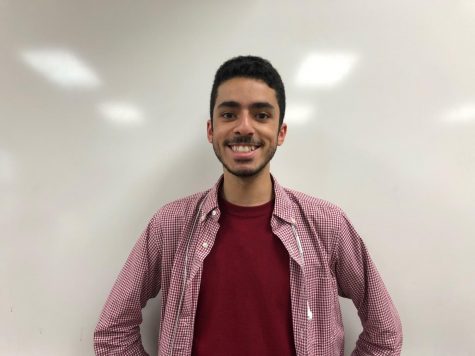 Evan Lopez, Staff Reporter
Evan Lopez is a junior in the Pre-Engineering Academy. He is a first-year writer on The Maroon Tribune. Other school activities include game maker for...