Art Show Displays DMAE's Growing Talent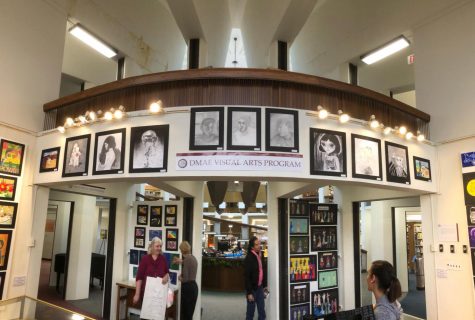 Talent is on the rise at DMAE. Baseball players, a cappella singers, debaters and even game designers are demonstrating their sizeable talent. The Art Show on Friday, March 17, 2018, held at the Englewood Public Library, showcased the considerable and varied talent of DMAE art students. Paintings and drawings covered every surface of the library wing as library patrons, parents, and teachers and students walked through the makeshift gallery in awe.

Over a hundred DMAE students participated in the Art Show hosted at the Englewood Public Library, and over a hundred pieces were on display. Every piece was unique, and together, they represented concepts learned over the year. The viewing was displayed on Facebook live, and the display area was reserved for a month.
"This is the year that we were actually able to have the most pictures so far. We've never had so many pieces in a show before," art teacher Mauricio Rodriguez explained proudly.
The 2018 Show was the fifth and most organized Art Show sponsored by the Englewood Library. Teachers reserved the library's display space well in advance, and with the help of student interns, they were able to display more art.
Senior Benjamin Brumley submitted a piece of his work for the Show. He explained that it was inspired by Spanish surrealism.
"I happened to come across the subject matter of an angular, almost surreal looking face. I debated whether or not to do it with colors or black and white. I ended up liking the look of it in my notebook in black and white," he explained.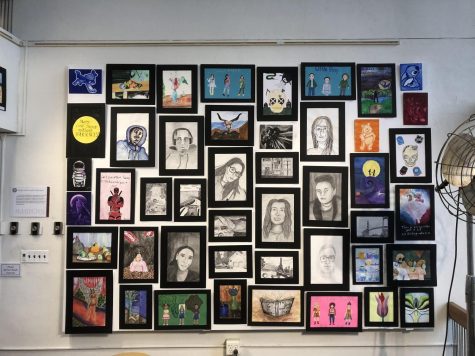 Benjamin's drawing was among those submitted by students across the campus including Kenia Akridge, Matt Alston, Melanie Bano, Kimberly Camue, Nijay Davy, Sarah Dubon, Xiomara Franco, Bonnie Godoy, Daniela Gurski, Jamie Gutierrez, Sarah Khadraoui, Michalina Krol, Diana Martinez, Lashya Martinez, Mariana Ortiz, Andrea Suria, Dante Wilson, and Sandra Zapata.
These and other artists also submitted their works to the Teen Arts Festival where Benjamin's drawing called "Visage in Gray" and Dante's piece called "Self Control" were awarded Best in Show.
The success of this year's Art Show spawned plans for an all district show next year.  
"We met with all of the art teachers in the district and we're hoping that we can have an all district show. We want to include other schools in a different art show while continuing to do our high school show," Mr. Rodriguez explained.