School Spirit Ruled at 2016 Pep Rally
The now annual DMAE Pep Rally was held on October 19, 2016, with the hope of not only cultivating Raider Pride, but to dispel any reservations of students who were disappointed by the event the previous year.
"Last year I was mostly bored at the Pep Rally because everyone was standing around for a long time and we didn't really see the sports teams," junior Ruchita Choksey explained. "So I was really excited for this year's Pep Rally and had hoped it would be an improvement from the last one."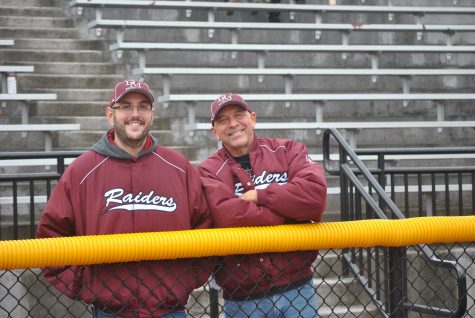 The planning of this year's event was headed by the athletic department in conjunction with the Student Council. According to Student Council Co-Advisor Alexa Rodsan, planning the Pep Rally was like planning any other school event. However, it turned out to be a mixture of popular and unpopular changes. 
The Rally included all the fall sports teams and the Homecoming Court, but each team made banners this year which they held high while running through a tunnel of DMAE cheerleaders. Each team's captains got special attention as the last to run through.
"At  last year's Pep Rally, the teams weren't really represented well because only captains went on stage, but this year, every athlete had strong spirit and pride in the team and school," junior Dayna De Montagnac said.
Those who weren't on fall sports team wore their class color: freshman wore red, sophomores purple, juniors were in pink, and seniors wore black.
Students had mixed feelings about other changes. Unlike last year's Pep Rally, the DMAE Marching Band did not perform, the event was after school at 7:00 p.m. and the venue was changed to the Winton White Football Stadium. Ms. Rodsan explained that the new athletic director, Richard Suchanski, ultimately was in charge of deciding the time and venue, but highlighted that it was important to limit missed class time. Senior Vanessa Wolosz, however, believed that this presented a problem for many students, as they could not attend the after school event.
"The changes made to the Pep Rally this year weakened it a little," she said. "It was held at night in the middle of the week, so a lot of people who were out of district were unable to make it, especially underclassmen that can't drive. Anyone who did get there had to find the stadium because the Pep Rally wasn't even on campus."
I felt a sense of unity with '17 … while also experiencing real school spirit.
However, students did like the voting procedure for the Student Council Executive Board. This year, members of the council decided to have the entire student body vote for their representatives. Ruchita, who was re-elected to the Parliamentarian position, explained that it was only fitting that the group who represented the student body be chosen by the student body. Voting for Student Council officers and Homecoming Court were done on the same ballot, allowing all of DMAE to cast votes for both elections.
After the announcement of the Student Council Board, and Homecoming Queen Nayely Hernandez and King Avery West, the Pep Rally ended at 7:25 p.m. This was a surprise to many students because the event was advertised to end at 8:00 p.m. Students thought there would be competitions, games, or dance battles, and many felt like the event was over before it could really become fun.
"The pep rally needed to have more activities. People expected races and competitions and music," junior Giselly Peralta said. "It ended when students were still full of emotion and energy."
Despite disappointment about some aspects of the event, all felt proud to be a Maroon Raider that night. Each class represented their colors well, and the stadium was a mosaic of red, purple, pink, maroon and especially black.
"In a broad sense, I think the goal of a Pep Rally is to instill pride in one's school and that was achieved even if the Pep Rally could have been conducted differently and more successfully," Vanessa explained. "I felt a sense of unity with '17 and generally enjoyed my time with friends while also experiencing real school spirit."
About the Contributor
Leticia Wood, Editor
Leticia Wood, a senior in the Pre-Engineering Academy, is the Editor of this year's Maroon Tribune. She enjoys having a diverse set of extracurricular...