Serious Business at DMAE Entrepreneurial Leadership Forum
On April 28, 2016, DMAE held a half-day Entrepreneurial Leadership Forum that brought together students from across the district, members of the Englewood community, and business owners from across the county. The Forum was held to educate aspiring students about establishing a business of their own. The theme of the Forum was "Educating High School Students for a Better Future."
The Forum, developed and organized by DMAE's new Next Gen Vest Club in partnership with the Bergen/Passaic Chapter of the National Coalition of 100 Black Women, gave students the chance to hear and see what it takes to become a serious business owner by interacting with many different kinds of entrepreneurs. Finance teacher Gail Baskerville created the Forum with the Next Gen Vest Club to expose all  students to today's  world of business and economics.
"It has a lot of worth because the economy has gotten a whole lot better, and more jobs are available to the students in the future," Ms. Baskerville said.
Approximately 125 students listened to the real struggles and eventual successes from these entrepreneurs. Many prominent speakers from varying fields attended and presented workshops, such as owner of Edison Learning, Thom Jackson, and former business owners Mayor Frank Huttle and Councilwoman Valerie Huttle. The event had a strong impact on the students, proving it  to be a success.
"When I look at these kids working hard and so dedicated to their education, I see what they can become."
"I want to grow up and study finance and hopefully become a successful businesswoman because finance is everything. It is basically all around us, and is very important to know and understand," said junior Sundus Qureshi.
Classroom breakout sessions were led by entrepreneurs from fields such as medicine, education and law. These were informative workshops geared specifically for students. For example, Austin Walker of Arbor Commercial Mortgage explained how his company provides debt and equity capital for multifamily and commercial real estate. Students attended more than one session and had opportunities to question business leaders in fields that interested them to learn more about their own career aspirations.
  "It was not just Finance kids. There were students from Eagle School, Dwight Morrow, and other academies. It was a nice mix of students, and parents, and out of everyone who attended, they all thought that it was a wonderful Forum. They wanted more schools to do things like this," Ms. Baskerville said.
DMAE administrators joined in the Forum and even participated in several of the workshops.
Those who attended hope the forum becomes a DMAE tradition because of its influence on the students. Mrs. Baskerville shared the same sentiment.
"When I look at these kids working hard and so dedicated to their education, I see what they can become. I'm committed to helping them get there," she said.
About the Contributor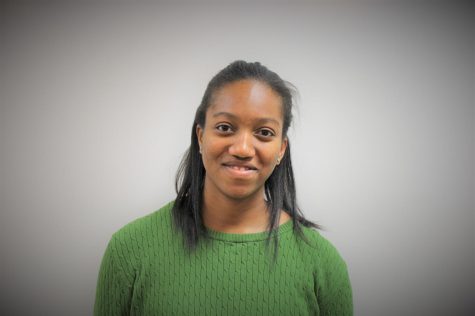 Courtnie Beckford, Senior Staff Reporter
Courtnie Beckford, who is currently a senior in the Biomedicine Academy, is a fourth year writer for The Maroon Tribune. She loves to write about school...