Hot '16 Idol Competition
On January 8, 2016, nine semifinalists took the stage at Englewood's Bergen Performing Arts Center in hopes of being crowned the 2016 Englewood Idol. Englewood Idol is a highlight of the DMAE experience, which, in the past decade, has also become a local sensation. For those who participate in the show, it is an emotional investment.
"I've always wanted to be a contestant in Englewood Idol," said senior and semifinalist Yume Murphy. "I love to sing and wanted to conquer my fears."
Of the initial nine hopefuls, five made it to the second round: Jakai Green with her rendition of Whitney Houston's "I Will Always Love You," Genesis Capellan who sang Sia's "Chandelier," Amanda Haroutunian and her version of Adele's "Hello," Eric Lee who took on Michael Jackson's "Man in the Mirror" and finally, Rebekah Han with her cover of Destiny Child's "Stand Up for Love." When all was said and done, Genesis came in third place, Jakai in second, and Eric was crowned Idol.
To win, Idol contestants have to impress both the judges and the audience, and when the competition is close, even good friends of contestants are not always sure who should win.
"Eric is one of my good friends  and I think he deserved to win," junior Warren Isley said. "Genesis's performance came very close, however. I'm not quite sure who was better but it was a very fair decision for Eric to win," he added thoughtfully.
The response to results for the dancing component of the show, Englewood's Best Dance Crew, was less approving.
Four groups participated with "Straight Outta Ninth" and "Latin Lovers" representing DMAE and "JLM" and "Team World" representing Dwight-Englewood. However, when "Team World" was awarded the title, the audience reacted with jeering and boos.
"I think "Straight Outta Ninth" should have won," senior Michelle Baksh admitted. "They did better overall, and it was clear by the audience's reaction that they should have won the competition."
This leads to the inevitable question: who really decides the winner of Englewood Idol and Englewood's Best Dance Crew? Some may be surprised to find out that the audience voting round only counts for one vote, which is equal to one of the six judges' votes.
After the second round, judges deliberated backstage. Judy Aronson, producer of  Idol, stressed how hard it was for judges to agree on a winner this year.
"The best way I can describe it is to say 'the gloves came off,'" Ms. Aronson said. "Finally, Ms. Rochman yelled 'That's it, give me the winners!' and they scribbled down their top three choices really fast."
The single audience vote was then added to those six votes from the judges. This process seemed unfair to some audience members who realized that even a united audience can be overruled by the judges. Ms. Aronson acknowledges the system is imperfect but also understands the risks of audience favoritism.
"For me, the hardest part about running this show is that I go home that night feeling a crazy mix of emotions: I'm happy that the right person has won and angry the wrong ones have lost," she said.
About the Contributor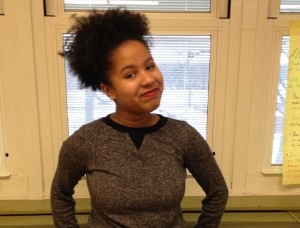 Niaree Thomas, Reporter
Niaree Thomas is currently a sophomore in the Biomedicine Academy. She participates in the school's Mock Trial Club, the Heroes and Cool Kids program...