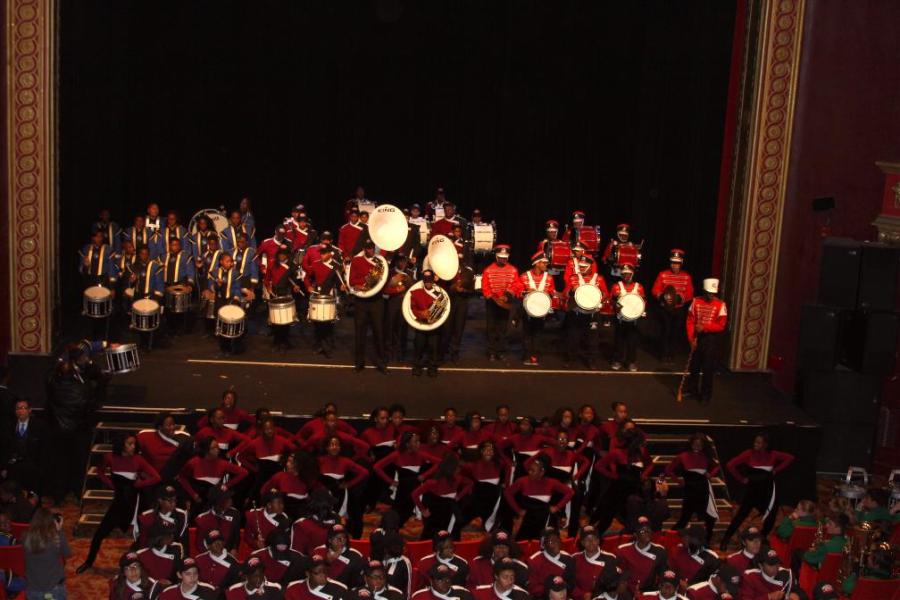 It was 7:30 on Tuesday, Oct. 21, 2014. The excitement in the room was riveting. Horns and drum sticks were pointed up in the air and the cheeks of students from all four Bergen County bands puffed as they brought musical notes to life. In the BergenPAC auditorium sat the marching bands of New Milford, John F. Kennedy, and East Orange High School. In the middle of these bands, playing tunes from Ring My Bell by Anita Ward to new songs such as Partition by Beyonce, sat the pulse of Englewood, the Dwight Morrow High School Marching Band.
This year's show was new and improved. Not only did they play more difficult songs but also more of them. Though these additions required hard work, many of the members of the DMAE Marching Band were looking forward to Bergen Blowout as early as Band Camp in early August. Members of the band early expressed their satisfaction.
"I'd definitely say it was a 10," Danceline junior Atiya Ali rated her excitement, "We've been waiting all year for Bergen Blowout, and it is the highlight of the Marching Band season."
The students prepared for two weeks, having to the juggle practices and the football games. They drilled songs in practice and often stayed after school until 8:00 p.m. to make sure they knew the order of the show. Many of the students felt the change of the new and improved event but no one felt it more than Band Director Gary. Hollander.
"The music we pick for the event is all relatively new and is given two weeks before the show," Dr. Hollander said. "The band has to learn all this new music in a short amount of time and perform as if we have been playing the music all year."
The mix of four different bands was a first for the 2014 Blowout. Previously, there were only two performances against Teaneck and Hackensack High Schools. The complete overhaul was definitely a change for students. Dr. Hollander made the strategic decision to include new bands this year.
"I  wanted to expose our group to other styles from the other towns and to enjoy the evening," he said.
The event went as smoothly as anyone could imagine. The different band choices had everyone in the auditorium chanting for their hometown. Each band showcased its genre and played it to the best of their ability. Every school was rewarded at the end of the event for participation.
"Every band had a fair chance of showing what they had and contributing to the show," sophomore Ruby Maury said.
Dr. Hollander felt the event was challenging but that students benefited from the challenge.
"By having a show with the spotlight on us, we had to out perform the show from last year," he said.
Despite the competitive setting, each band received a participation award and left with school pride in tact.