PSA: Dwight Morrow Indoor Track is no Joke
First off let's get one thing straight, one does not "play" track. You either run, jump or throw. And despite being an under-appreciated sport, winter track not only builds team bonds during training, but also provides athletes with the opportunity to grow immensely as individuals.
Track practice is held every day; each training session lasts approximately three hours. When team members aren't practicing they are competing in meets that run from approximately 4:00 to 10:00 p.m. It is a huge time commitment, especially on a school night.
"Track is a sport that requires a lot of hard work, determination and consistency," Coach Jamayla Scott explained.
Track athletes have to worry about their grades while thinking about opponents that could be from across the state!
According to Coach Scott, these are model student-athletes.
"They have to bring homework to the meets to ensure their academics are upholding," she said.
The team is no stranger to experienced coaches. Reggie Williams, Lisa Oden, Mike Epps and Jamayla Scott all have been coaches, collectively for a total of 34 years. Molding the top student-athletes from DMAE runs like clockwork.
Another reasons for the success of the athletes is that the team is open to anyone interested in joining and helps new athletes reach their potentials. Most of DMAE's track athletes are committed to the team once they join and stay for three or four years. This year's captains are senior Kristopher Clarke and juniors Tanijua-Sargent Malcolm and Alicia Pena. These leaders along with their "family" have achieved some great feats that will shine for a long time.
Alica broke last year's record set by DMAE's Janine Palmer in the 300 meter dash at the Big North league meet held at the Armory in New York. Alica also holds the league record in the 400 meter dash and she broke the school record in the country meet for the 300 meter dash. Junior Latoya Drakeford placed 2nd in the league meet and medaled in the 55m hurdles.
"I was happy with this year's accomplishment but always looking forward," captain Alica said. "I think that next year will be a great year since we have the veterans of the team leading the strong underclassmen who will then also one day pass the torch," she added.
Along with the experienced athletes present on the team, freshman Andrew Norman has also excelled. He competed in the varsity 4×400 meter relay and also ran in both the 300 meter and 55 meter dash. He helped the team in a major way by winning points in the county meet. In addition, the most improved athletes of the season were juniors Tatiana Garrison, Natalie Adams and Savion Martin.
"There are lots of new faces that provide the upcoming years with solidarity," Alicia noted gladly.
Though the team as a whole has done monumental things in the 2013-2014 season, members look to improve on what they can in order to really step it up in the next season. The team will have strong leadership both from the coaches and captains and hope to continue to set and break records.
Junior, and upcoming star Martin said, "I love the competition and getting to meet new people every meet. I look forward to getting better and keep moving forward on to bigger and better things."
About the Contributor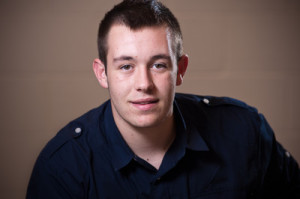 Cristian Milevski, Staff Reporter
Cristian Milevski is a junior in the Law and Public Safety Academy. He is actively involved in both the school's Varsity baseball and football team....