Subculture Day: Dr. Hall's Sociology Bazaar
The DMAE south building cafeteria was transformed into a loud and colorful panorama during second period on Jan. 13, 2014, when 12th grade sociology students presented their interpretations of subcultures in society. Students created exhibits that put a spotlight on subcultures they researched, exhibits that included food, information and enactments. This year Arabic, Caribbean and Chinese subcultures were represented at Subculture Day along with trendier niche subcultures such as Doomsday Prepper and Hipster.
Brian Hall and his class invited teachers and students from across campus to come to the annual event and evaluate the presentations and most were immediately drawn to the loud music and dancing of the Greaser and PLUR exhibits, two additional niche subcultures on display that day.
"I was a Greaser, because they were the rebels of the 1950s, and that's pretty cool," Emma Peterson said. "It was fun because there was music playing and it was very exciting to see all of the different subcultures represented."
Guests to the Bazaar were treated to free food, festive music and an eye-opening and thoroughly entertaining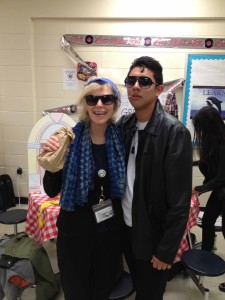 experience as they visited the presenters' stands and participated in this light-hearted and educational event. There were even some impromptu skits.
Maria Ochoa, a sophomore, enjoyed her visit.
"I just heard that there was something going on in the cafeteria and I went to see. But I'm glad I went because I really liked the presentations, especially the Colombian one," Maria smiled, "because I'm Colombian!"
The Bazaar has been a favorite campus tradition since Dr. Hall began teaching sociology in 2005. It took place in his room until about four years ago, when it outgrew the smaller space and had to be moved to the cafeteria.
"It's my goal to make learning fun, practical and more real. I think the idea of the Subculture Bazaar allows students to learn about the aspects of a culture and teach it to others," Dr. Hall explained.
Sociology students have some additional incentive to make their presentation the best it can be because it is a competition. Dr. Hall and the visitors critique the presentations as well as the students rating themselves and each other. Then, the votes are tallied in a weighted system, and 1st, 2nd, 3rd places receive a reward.
"Usually the culture that a student picks is one that they are already familiar with," Dr. Hall said. "Sometimes, it's ethnic, but not always."
This year, PLUR, was a popular presentation partly due to its bright colors and energy.
"PLUR was a particularly unique one," acknowledged Dr. Hall, chuckling. "It stands for Peace, Love, Unity, and Respect."
Due to the timing, many students could not attend the event.
"I didn't even know that it was happening," complained Daniel Atehortua, a junior. "Everyone told me afterwards how fun it was. I wish I could have gone."
However, students need not worry, as they will be able to explore subcultures next year.