HOSA HOSA HOSA
Regional Competition Triumph
On Saturday Jan. 11, 2014, 47 students from the AE's HOSA chapter competed in the North Jersey Regional Conference.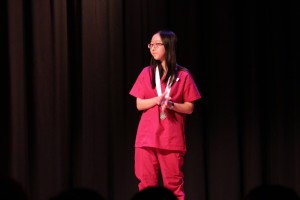 Competitions ranged from knowledge tests to nursing and EMT to even team competitions like CPR. The competition was fierce this year and AE's HOSA chapter was determined to come back stronger from its impressive wins last year.
"After making it to nationals last year in Biomedical Debate with my team members, we want to focus everything on going back this year and winning," secretary of the club Soindos Abdah said.
The rainy day began with a 20-minute ride to the Passaic Institute of Technology where the North Jersey HOSA Council began the meeting with breakfast, a review of guidelines, and some final words of encouragement. After that, students were whisked off to their competitions feeling hopeful yet nervous.
"I was so nervous competing against so many other students including three seniors from my schools," senior Serena Siu, who placed 7th in the extremely competitive Medical Terminology category, said.
The competitions were followed by a special presentation from the Icla da Silva Foundation, one of the largest bone marrow transplant recruitment centers in the US. The presentation included a short reflection from a leukemia survivor as well as a video explaining how the donor process works.
"I found myself tearing when they showed the patients meeting their donors. It's such a touching moment when the donor sees who they saved," senior Reshma Kuttappassery stated.
Other highlights included the "Don't Forget the Lyrics" and "Question" game. However, most students said the best part of the conference was the awards ceremony.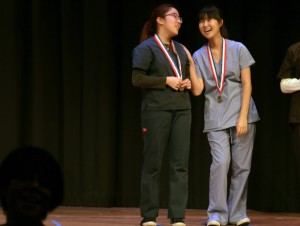 At the regional conference, eight medals are awarded per category but only the top five students advance to the state level competition in March. This year, AE's HOSA chapter brought home 18 medals with 12 students advancing to states! Both Moheb Mechail and Crystal Ponticello, co-advisers of the DMAE HOSA Chapter, were proud of the students.
"It was so great to see the students celebrating one another's successes. We're so proud of their achievements," Dr. Ponticello said.
This year, interestingly enough, several students failed to show up for the conference. Many said that because of the late night Englewood Idol even the night before, they were too tired, as they had to arrive at school by 6:45 a.m. Out of the approximately 70 students who paid to attend, only 47 students were there.
Next year the DMAE HOSA organization hopes there will not be conflict with events, and plans to keep the high level of achievement rising.