ETA Does It for Leukemia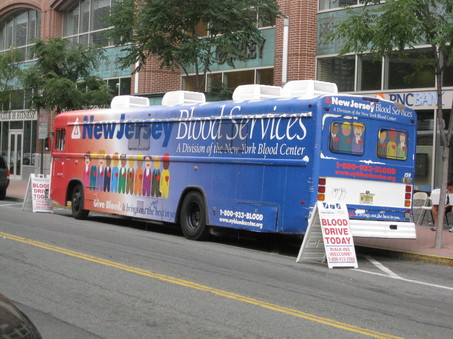 He was an energetic and playful toddler, but when Nicholas Tolliver turned five he contracted a life-threatening illness.
His parents noticed something wasn't right when he began to lose energy and was tired all the time. They soon learned that he had Type B Cell Acute Lymphoblastic Leukemia, the most common of childhood cancer.
"I was immediately touched after hearing that a young boy in our community was suffering from such a serious illness. I had to do something," science teacher Shawn Cyran said.
Recognizing how important blood donations are to people who need it, Mr. Cyran took the initiative by proposing a Blood Drive for Nicholas to the Englewood Teacher's Association (ETA).
"It's important to know how much it means to people when blood is donated."
As a result of Mr. Cyran's caring and the help of coordinator Miriam Trevado,
a Blood Drive named for Nicholas was held on Wednesday, Feb. 6, 2013, from 9:00 a.m. to 3:00 p.m. An RV blood mobile visited both Grieco Elementary School and Dwight Morrow High School. Teachers boarded the RV during their lunch or free periods to donate blood.
"It is important for not only students but also staff members to help out and give a helping hand to those in need," Ms. Trevado commented.
Approximately 15 teachers from both campuses participated.
"Whenever teachers had a free period or could take off for a while, they donated some blood; the RV was more accessible," Mr. Cyran said.
Mr. Cyran is hoping to promote another blood drive and although pleased with the turnout, he hopes to see more teachers participate.
"It's always good to take a little off your day and help someone who will benefit from your help," Ms. Trevado remarked.
As for Nicholas, he received many blood transfusions from donors. After only nine days (less time than it takes for most people to get over the flu) he was in remission, with no signs of leukemia! All his energy has returned and he is well on his way to recovery.
DMAE is sponsoring its annual spring Blood Drive Tuesday, April 30, 2013, from 9:00 a.m. until 2:30 p.m. in the Gymnasium. This will be a great opportunity for teachers along with students to donate blood. Students must be 17 or older and 120 or more to donate blood. Students who are 16 years old and want to donate blood may donate blood if they get permission from a parent or guardian. Students who donate receive a snack and a T-shirt. For more information, contact School Nurse Barbara Manche.