DMAE Boys Tennis Preview
Coming from one of the most successful seasons in Dwight Morrow Athletics history, the Boys' Varsity tennis team is on a mission to fulfill one goal: win the State Sectional Championships. Notably, the State Sectional title has eluded the DMAE Tennis team since 1987.
"It's definitely been a while since we won big time, the
state title," Trevor Dinallo, a member of the 2012 tennis team and Academies alumni, stated. "I was upset we couldn't win my senior year, but I'm really excited for the future of our tennis team."
Coached by David Smith, the 2012 season brought home many awards including those from the Big North Conference and a 15-1 record. The team looks to build on last year's momentum and go for a perfect season this year. To date, it has won five matches and lost only one.
"We have all the talent we need this year," Coach Smith said.
Colin Chiang, the only senior on the team shares the same excitement for the upcoming season.
"It's my senior year and fourth year on the team. I'm so excited to end my high school tennis career on a positive note," Colin said.
Other members of the team include juniors Peter Volkov, Brian Lee, Nathan Labugen, Sava Radovic, sophomore Daniel Cho, and freshman Samuel Kim.
The Varsity Tennis Maroon Raiders are looking to make a mark on Dwight Morrow history with their confidence from last year. The tennis team faces high expectations for the upcoming season.
"We know we are capable of winning, because we've done it before," Junior Varsity Coach Andrew Eisler said. "We'll just go out there and prove it again this season."
About the Contributor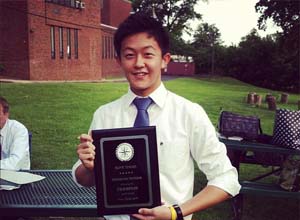 Daniel Cho, Semester 2 Sports Section Editor
Daniel Cho is a sophomore in the Biomedicine Academy. His biggest passion is playing tennis, and he is captain of the Varsity Tennis team. Other than being...