UNICEF Club Pepero Sale
Pepero (pep-eh-roh) n. – a thin cookie stick dipped in chocolate, made in South Korea.
"Everyone has bake sales," said Reshma Kuttappassery, junior and president of the UNICEF club. "We wanted to do something different and fun for a fundraiser," she said.
On Nov. 11, 2012, the DMAE UNICEF (United Nations International Children's Emergency Fund) Club held its third annual Pepero sale. Why Nov. 11? The date, when written as "11/11," resembles four sticks of Pepero lined up, and it became a minor holiday in South Korea.
The club consists of mostly Asian students and so they decided to sell Pepero cookie sticks to raise money for the children.
"We wanted to find a unique, more diverse way to raise money." Reshma said.
Through the sale, the club was able to teach a little something about the Korean culture of many of its members while raising funds for a good cause.
Although the officers of the club are in charge, advisor Michele Farley keeps the 25 members of the club motivated with suggested activities.
But, most of the activities are thought up and planned by the students.
"Pepero was most certainly not part of my background," Ms. Farley explained. "In the first couple of years, I had to encourage the members more with planning fundraisers, but they've pretty much taken over."
Ms. Farley attributes the excellent organization and planning to the club representatives.
"I have great officers. I can sit back and let them do a lot of the work," she said.
Students worked hard during the Pepero sale; some sold out before the day was over. In just a month, the club raised $285, adding to their current total of $900, which went to UNICEF for feeding, educating, and protecting children all around the world.
"The club really isn't something we're just doing for college," Reshma said. "We're doing it because we care, and we really want to help out."
Pepero sales aren't the only way the club plans to raise funds for UNICEF. Club members are always planning new events.
"There's a lot to look forward to from the UNICEF club this year," Reshma said.
For starters, club members have planned a Valentine's Day-themed movie night next month.
About the Contributor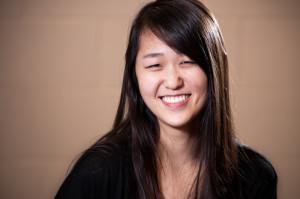 Erin Kang, Semester 2: Staff Reporter
Erin Kang is a junior in the Biomedicine Academy. In addition to being a first year member of The Maroon Tribune, she is also a part of the Varsity tennis...