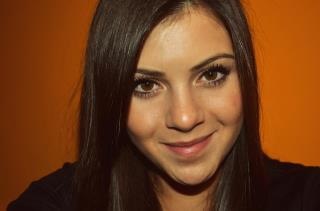 "Things on my to-do list are to visit New York City and definitely watch the famous Broadway Show Wicked," said junior Veronica Artyushenko, who, just three months ago, was in Bavaria, Germany, where she lived in a small town in Weiden in der Oberpfalz. Now, thousands of miles away, she has settled in Englewood Cliffs, NJ, with her sushi-loving American host family.
Born in Ukraine but raised in Bavaria, Veronica speaks five languages: German, Russian, English, French and Spanish. Her multicultural background reflects her interests and how she came to be a full-year exchange student as a junior here at DMAE.
Introduced to an organization called Youth for Understanding (YFU) by a school friend, who spent a school year in America with the help of the organization, Veronica was eager to take part in the foreign exchange student program.
"I wanted to try something new and learn about the American culture," Veronica said.
Though high school life in America is her most favorite experience so far, she admits that the first couple of days were tough. Now she feels that she is improving, as she has gotten more familiar with the school and her peers. Veronica, who describes herself as "optimistic, adventurous and curious," feels that she doesn't belong to just one group of friends. She loves that the people she has encountered here have been very open-minded and not judgmental.
"I have met a lot of new people and I look forward to making more friends throughout the year," she said with a warm smile. "It makes you realize who you are and what your interests are."
Currently taking two foreign language classes as well as US History, Veronica was taken aback by the wide array of courses and electives offered at DMAE. Her school in Germany not only differed in the courses it offers, but also in its building architecture. "American schools look like castles," she said, referring to Dwight Morrow's tall trademark tower.
To complete her American student experience, she has replaced her past hobbies of kickboxing and ballet with soccer. Although she never played soccer before, Veronica tried it out by joining the Lady Raiders Soccer Team. She feels that even though three months is not a long time, she has matured as a person and now has a more objective view on everything. Yes, she misses home, her parents and how people could walk to malls in Germany, but she keeps herself occupied by enjoying everything that America has to offer and dreaming about Broadway.